Celebrating London's late-night coffee culture with one of the world's most iconic cocktails
Gods of boozy coffee, Mr Black, launched London's first-ever espresso martini festival last year. Mr Black's Espresso Martini Festival runs from 16-19 August celebrating the capital's most famous cocktail export and includes some of the most prestigious cocktail bars. Just for the record, it's my favourite cocktail.
DrinkUp.London, the company behind the award-winning London Cocktail Week, the festival will see 50 top cocktail bars across the city pouring £5 variations on this celebrity of the drinks world. Alongside the eponymous serve, each bar will also be rustling up a unique coffee-based cocktail that makes use of Mr Black coffee liqueur – ensuring that visitors will be spoilt for choice wherever they choose to go.
The Church of Coffee is absolutely awesome and is running throughout the whole of the Espresso Martini Fest (16-19 August) on Brick Lane. A coffee shop with cool masterclasses by day and an awesome bar by night. It's the perfect spot to start your Espresso Martini Fest adventure. I absolutely loved it. The espresso martinis were divine and the pop-up is just amazing…with DJs in the evening. The people are absolutely lovely too!! A must-see this weekend!
Cold Brew Bar Opening Hours
Friday 17th August – 10.00-15.00
Saturday 18th August – 10.00-12.00
Espresso Martini Bar Opening Hours
Thur 16th August – 19.00-23.00
Friday 17th August – 15.00-23.00
Saturday 18th August – 12.00-23.00
Sunday 19th August – 14.00-23.00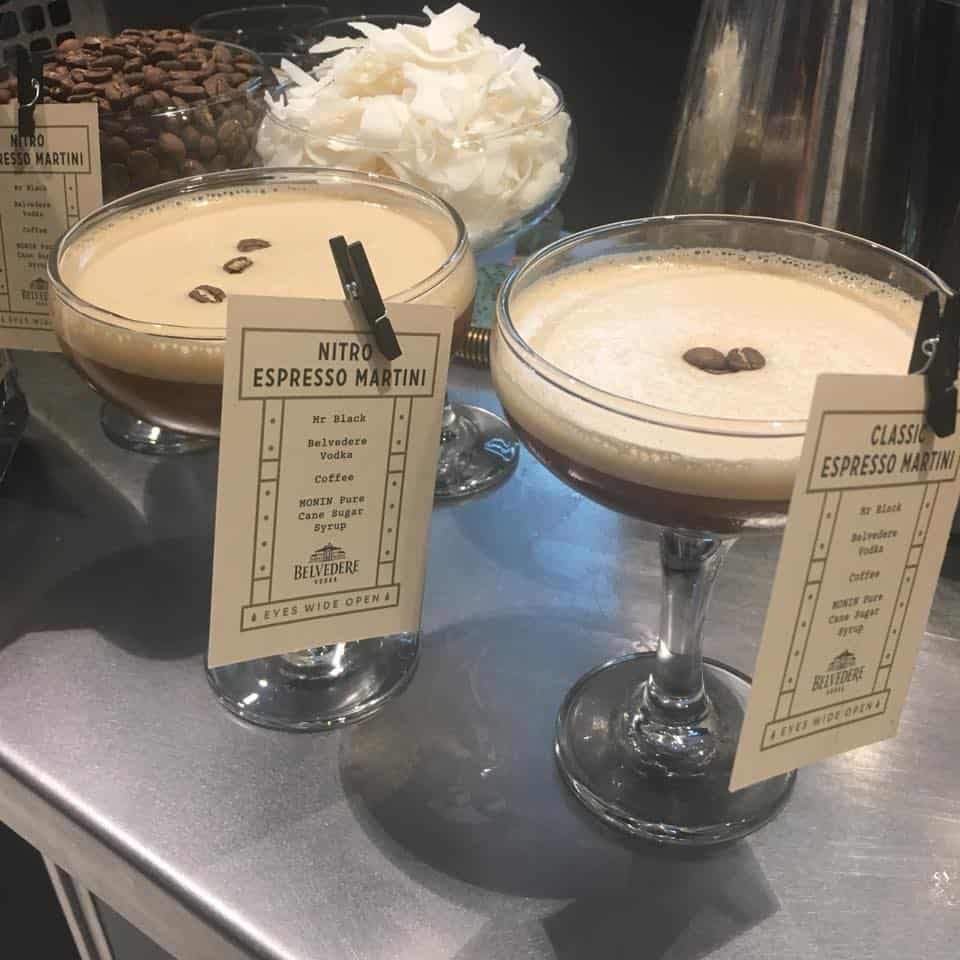 Espresso Martini
The apocryphal story of the espresso martini is almost as famous as the drink itself. Legendary barman Dick Bradsell invented the drink whilst working at Brasserie Soho in the 1980s, responding to a request from a patron for a drink to "wake me up and then fuck me up". Dick Bradsell sadly passed away in February 2016. His influence on the London drinks scene will endure for decades to come.
Mr. Black Coffee Liqueur
Mr Black Founder, Tom Baker says: "London keeps in step with the world's 24-hour cities for nightlife and cocktail excellence, so it's no surprise the legendary espresso martini has its origins in Soho. If we were ever going to expand our espresso martini festival outside of our home country of Australia then it had to be London. Brits have embraced coffee culture in a big way and the espresso martini means Londoners' caffeine hits can run all day and into the night.
"Coffee is one of those things that runs deep with people – like sex and religion – so we use our festival as an opportunity to bring people together and indulge a little. We had huge success with the inaugural festival down in Melbourne last year, with tickets for the Friday night session selling out in 60 seconds – so we thought we'd give it a spin here in London."
Attendees will need to purchase a £10 Festival Pass via DrinkUp.London and download the free app to search for bars taking part.
Once signed up, simply flash your festival pass at each participating bar to enjoy outstanding cocktails at any time over the three days for just £5. Festival Passes for Mr Black Espresso Martini Festival can be bought via DrinkUp.London.
Espresso Martini Closing Party
A post-Espresso Martini Fest party that is set to be a latte fun. Only a short walk from the hub, with cocktails and burgers on the BBQ.
Address: London Cocktail Club – Bethnal Green, Arch 253 Paradise Row, London, E2 9LE
Date: 19/08/2018
Opening Times: 4pm – Close
Price: FREE

Event Info:
WHAT: Mr Black Espresso Martini Fest
WHEN: Thursday 16 – Saturday 19 August 2017
TICKETS: £10
APP: Search for DrinkUp.London on the App Store or get it on Google Play
@MrBlackSpirits #espressomartinifest
How to make a Mr. Black Espresso Martini
London's best invention is a simple mix of just four delicious ingredients.
Coffee and alcohol combine perfectly for this after-dinner tipple, designed to keep you dancing till sunrise…
It was 1983 and Dick Bradsell was tending bar at the Soho Brassiere in London when, as the story goes, an American model approached the bar and asked him to make her a drink that "wakes me up and then fucks me up." With the coffee machine sitting next to his bar station, and it being the heyday of vodka, the Vodka Espresso was born, originally served on the rocks.
"I suppose it was inevitable that these two bastions of psychosomatic alteration should one-day combine forces to become allies in the fight for a good night out," writes Tristan Stephenson in The Curious Barista's Guide to Coffee.​
Whether or not that is the true story behind the invention of the Espresso Martini seems beside the point
Years later Dick was behind the bar at MATCH and started serving the drink straight up under the name the Espresso Martini. Quickly becoming a global phenomenon, the universally popular drink is best made using good quality espresso both for flavour and texture. Step away from the instant coffee.

Make it at home:
Prep Time: 5 minutes | Serves: 1 | Skill: Easy
Ingredients
40ml Belvedere vodka | 25ml Mr Black coffee liqueur | 25ml espresso coffee | 5ml sugar syrup | Cubed ice to shake | 3 coffee beans
Preparation
Place a Martini glass in the freezer three hours before to chill
Equipment
Cocktail shaker | Hawthorne strainer | Martini glass
Method
1. Pour the vodka, coffee, liqueur and sugar into one-half of your cocktail shaker
2. Fill this with ice
3. Cover and shake well until thoroughly chilled
4. Strain into a chilled Martini glass
5. Garnish by floating three coffee beans on top