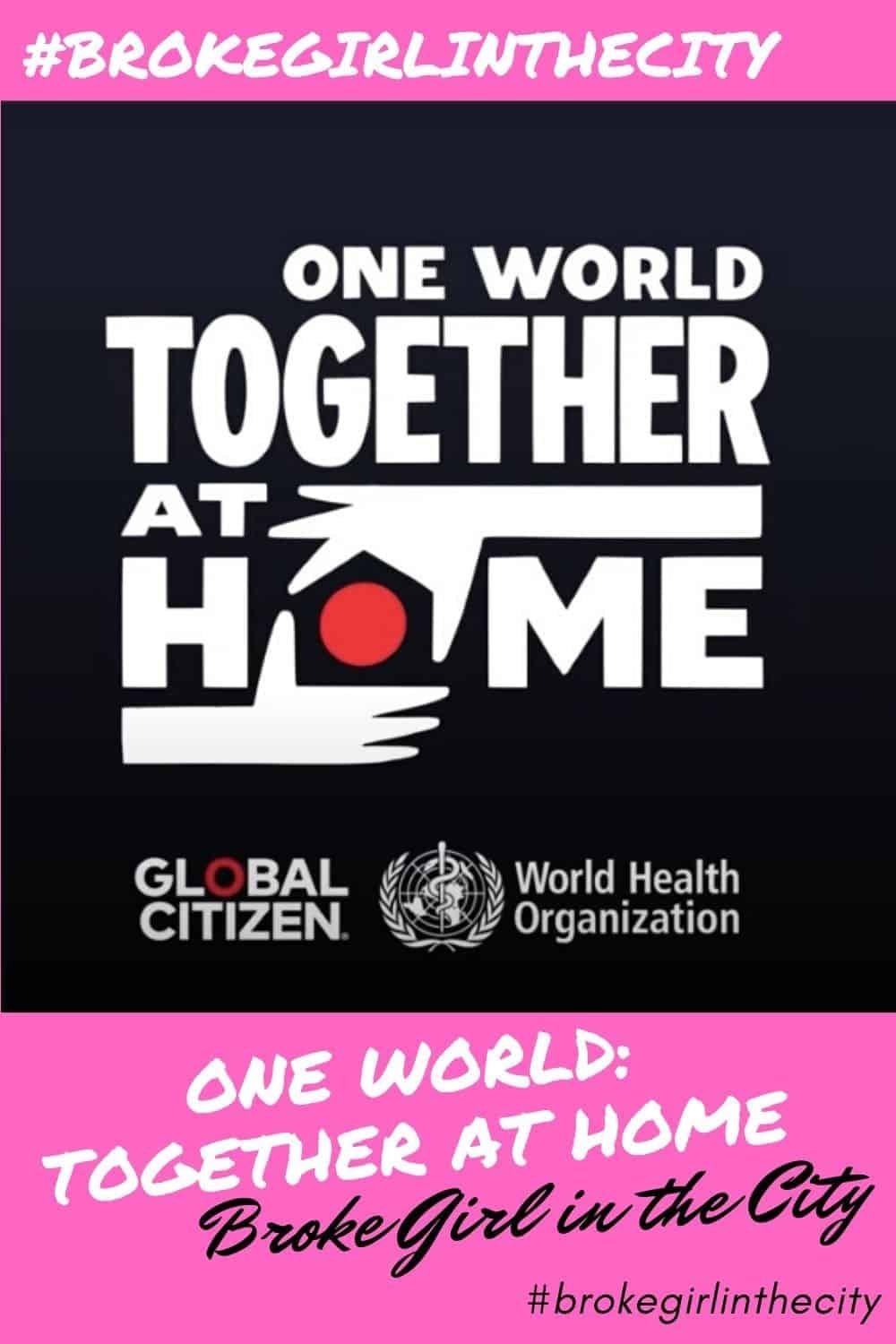 One World: Together At Home
A star-studded concert is taking place to support frontline workers tackling the coronavirus outbreak this weekend.
This virtual concert, organized by WHO and international advocacy organization Global Citizen, and curated by Lady Gaga, brings together people to take meaningful actions to protect health and to support the global COVID-19 response. It will also celebrate and support brave healthcare workers doing life-saving work on the frontlines. It's the Live Aid of our time.
"It is a love letter to our doctors. A love letter to our nurses and other health care professionals who are risking their own lives for the sake of ours"

Lady Gaga, speaking via video-teleconference at the WHO press briefing in Geneva.
One World: Together At Home will see more than 100 artists play live from their homes.
"The World Health Organization is committed to defeating the coronavirus pandemic with science and public health measures, and supporting the health workers who are on the frontlines of the response," said Dr Tedros Adhanom Ghebreyesus, Director-General of WHO. "We may have to be apart physically for a while, but we can still come together virtually to enjoy great music. The 'One World: Together At Home' concert represents a powerful show of solidarity against a common threat."
"We may be apart right now, but coming together has never been more important," Global Citizen said in a statement.
Who will perform?
According to the official release by the World Health Organisation. 'One World: Together At Home' Global Special will be broadcast on major television networks and streamed online on Saturday, 18 April from 18:00 (GMT).
Curated in collaboration with Lady Gaga, this global event will include Alanis Morissette, Andrea Bocelli, Billie Eilish, Billie Joe Armstrong of Green Day, Burna Boy, Chris Martin, David Beckham, Eddie Vedder, Elton John, FINNEAS, Idris and Sabrina Elba, J Balvin, John Legend, Kacey Musgraves, Keith Urban, Kerry Washington, Lang Lang, Lizzo, Maluma, Paul McCartney, Priyanka Chopra Jonas, Shah Rukh Khan and Stevie Wonder.
American TV personalities Stephen Colbert, Jimmy Kimmel and Jimmy Fallon will host the show, which will also feature Taylor Swift, Jennifer Lopez, Chris Martin, Pharrell Williams, Rita Ora, Sam Smith, Elton John and Paul McCartney.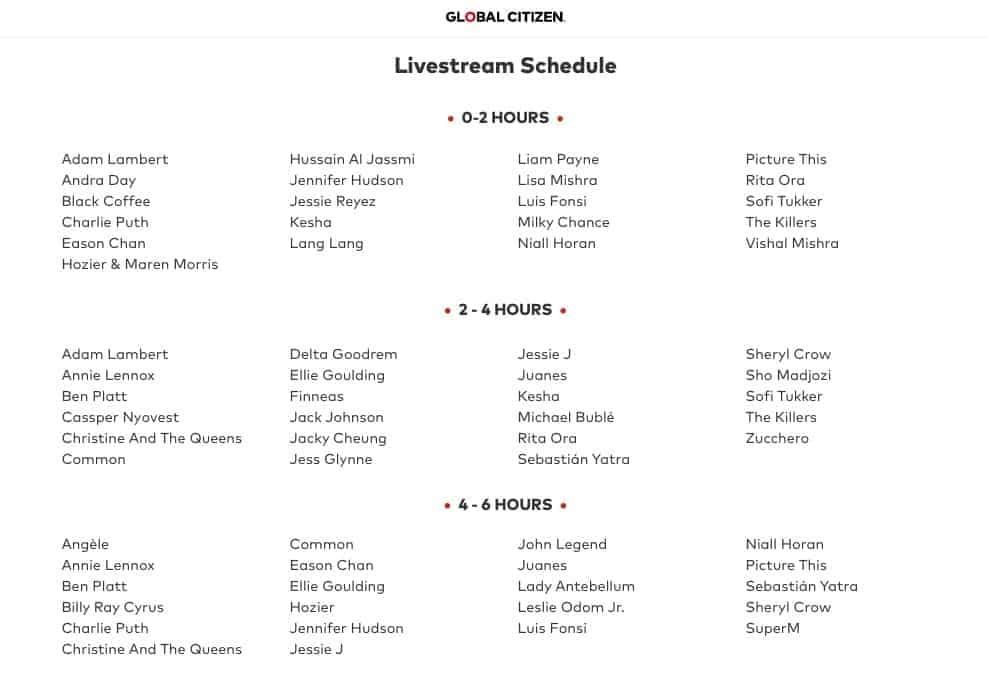 When is the show?
One World: Together At Home will be broadcast on major television networks worldwide on Saturday, 18 April 2020 at 18:00 (GMT) on ABC, NBC, ViacomCBS Networks, iHeartMedia and Bell Media networks and platforms in Canada. BBC One will run the program on Sunday 19 April 2020. Additional international broadcasters include beIN Media Group, MultiChoice Group and RTE.
The event will be streamed online on multiple global platforms, including, Alibaba, Amazon Prime Video, Apple, Facebook, Instagram, LiveXLive, Tencent, Tencent Music Entertainment Group, TIDAL, TuneIn, Twitch, Twitter, Yahoo and YouTube. This digital special will include additional artists and performances from all over the globe as well as unique stories from the world's healthcare heroes.
How to watch in the UK:
The entire Special will be streamed at www.youtube.com/WHO and on WHO's main social media channels.
The eight-hour event run by the Global Citizen movement and the World Health Organization (WHO) is being live-streamed and broadcast on TV.
In the UK, BBC One will screen highlights of the concert at 19:15-21:15 BST on Sunday. It will include extra performances from British artists like Little Mix, Sir Tom Jones and Rag 'N' Bone Man and additional footage will also be available on BBC iPlayer for 30 days
BBC One
How: Watch on TV and Online
When: April 19 | 7:15-9:15P BST
Viacom UK
How: Watch on TV
When: April 19 | 10P (MTV, MTV Music)
April 19 | 11P (Channel 5)
April 19 | 12A (MTV Hits, MTV Rocks, Club MTV)
April 20 | 10P (MTV Base)
April 20 | 12A (MTV OMG)
Where do proceeds go?
The event will also be telling real-life stories of nurses and doctors fighting the coronavirus outbreak.
Proceeds generated from the concert will go to the Covid-19 Solidarity Response Fund for WHO.
Lady Gaga has made clear that the show is not a fundraising telethon and will focus on entertainment and messages of solidarity.
What is One World: Together At Home?
The UN and the World Health Organization (WHO) asked Global Citizen to support their COVID-19 response by bringing the world together through music and inspiring everyone to take action. With an exceptional group of artists, Global Citizen is now launching One World: Together At Home.
One World: Together At Home is a historic, cross-platform global special that will celebrate and support healthcare workers and others on the frontlines, and the World Health Organization (WHO) as they lead the fight against the COVID-19 pandemic. The broadcast will include leading global health experts alongside exciting performances by the world's top artists and comedians.
How was One World: Together At Home created?
Together At Home began as a virtual activation to unite humanity at a time when many may feel isolated at home. The campaign leverages social media to bring musical performances into homes around the world, connecting and inspiring Global Citizens to stand together and take action to beat coronavirus. Artists who have participated in the Together At Home series and asked fans to support Global Citizen's campaign, include Chris Martin, John Legend, Charlie Puth, Common, Shawn Mendes, Camila Cabello, Ryan Tedder of OneRepublic, Niall Horan, Steve Aoki, Jennifer Hudson, Miguel, H.E.R., Rufus Wainwright, Hozier, Julianne Hough, and more.
How does Together At Home benefit WHO?
Contributions from corporate partners will go directly to the WHO's Solidarity Response Fund to support and equip healthcare workers around the world. WHO is best positioned to lead and coordinate the global response across all 194 nation-states. As of last week, WHO has shipped 2 million pieces of critical PPE and supplies to 68 countries worldwide, ensuring the poorest countries have the resources needed to tackle COVID-19.
This included over 700,000 surgical masks, 51,000 N95 masks, 727,000 gloves, 85,000 gowns, nearly 14,000 goggles, and over 20,000 face shields.
The Fund has also supplied 1.5 million diagnostic kits to 120 countries, increasing their capacity — 39 of those countries were in Africa, 20 in the Eastern Mediterranean Region and 29 in the Americas to bolster their abilities to detect and respond to COVID-19.
What is Global Citizen?
Global Citizen is the world's largest movement of action takers and impact makers dedicated to ending extreme poverty by 2030. With over 10 million monthly advocates, Global Citizens have the power to drive lasting change around sustainability, equality, and humanity. We post, tweet, message, vote, sign, and call to inspire those who can make things happen to act — government leaders, businesses, philanthropists, artists, and citizens — together improving lives. By downloading our app, Global Citizens learn about the systemic causes of extreme poverty, take action on those issues, and earn rewards, which can be redeemed for tickets to concerts, events, and experiences all over the world. To date, the actions of the Global Citizen community, along with high-level advocacy efforts and work with partners, has resulted in commitments and policy announcements from leaders valued at over $48 billion, affecting the lives of more than 2.25 billion people by 2030.