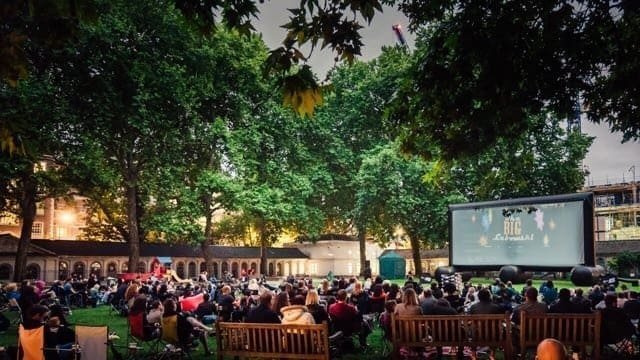 Pop Up Screens

, in partnership with Benadryl, announces its summer outdoor cinema lineup

for 2018
New Locations Added, Including Kingston, Maida Vale, Crouch End and Denmark Hill
Regarded as one of the most enjoyable and relaxing outdoor cinema experiences in London. This summer, the iconic Pop-Up Screens returns bigger and better than ever, in partnership with Benadryl, to provide a host of enjoyable movies, both new and old, across London.
In addition to its "relaxed atmosphere and friendly vibe" (TimeOut, 2018), Pop Up Screens will bring with it a collection of the latest box office hits from the past year. Including both the highly praised action superhero flicks Thor: Ragnarok and Wonder Woman. Academy Award winners The Shape of Water, 3 Billboards Outside Ebbing, Missouri, and Get Out. Along with the new family favourite The Greatest Showman, something which we all expect to be singing along to. Pop Up Screens will not be forgetting about their timeless favourites, though, with Dirty Dancing, Grease and Top Gun all making appearances over the summer too!
This summer, Pop Up Screens brings its unique experience to a host of new locations, including the beautiful Ruskin Park in Denmark Hill, iconic Guildhall in the heart of London, picturesque Canbury Gardens in Kingston and the magnificent, award-winning Priory Park in Crouch End.
Pop Up Screens founder Dave Leydon said, "Pop Up Screens has been popping up around London for 6 years now, and every year we try and find some new locations to pop up in, and this year isn't any different as we're on our way to Kingston, Maida Vale, Denmark Hill and Crouch End for the first time.
Outdoor cinema still has a certain romance to it that gets lost in the multiplexes; that magic of being outside with a movie you love is pretty hard to beat.

Cinema Info:
Tickets will be priced from £7 for a child and adults starting from £12.50.
You're welcome to bring your own blankets, beanbags and cushions, or you can hire a deckchair for £4.
If you feel like styling up your cinema experience, this year Pop Up Screens are introducing VIP seats for £20 each, including a chair in a prime location plus a free drink!
Food will be coming directly from Brighton, with the Seaside Pizza Co. providing lovely sourdough wood-fired pizzas all night.
Tickets can be booked from www.popupscreens.co.uk