Wembley Park springs to life with a free public art trail
'Figures of Change' to mark International Women's Day
8th March – 26th June, Wembley Park
Wembley Park unveils eight major public realm artworks by leading female artists from around the world, curated by Zoë Allen of Artistic Statements and assembled by an all-woman team of 16. The ambitious project will further establish Wembley Park's credentials as a major cultural hub for Northwest London.
Launching on Tuesday 8th March to celebrate International Women's Day, the free art trail includes digital artworks, lighting installations, typography, graphic design, photography and illustration. It centres around the theme 'How Beautiful Change Can Truly Be'. Underpinning the transformation that Wembley Park has undergone in recent years. From an event-day-only destination to one of London's most exciting new neighbourhoods, with culture and creativity at its heart. The 85-acre Wembley Park area includes affordable artist studios and a growing collection of outdoor public art developed with local, national, and international artists, which has transformed its public spaces.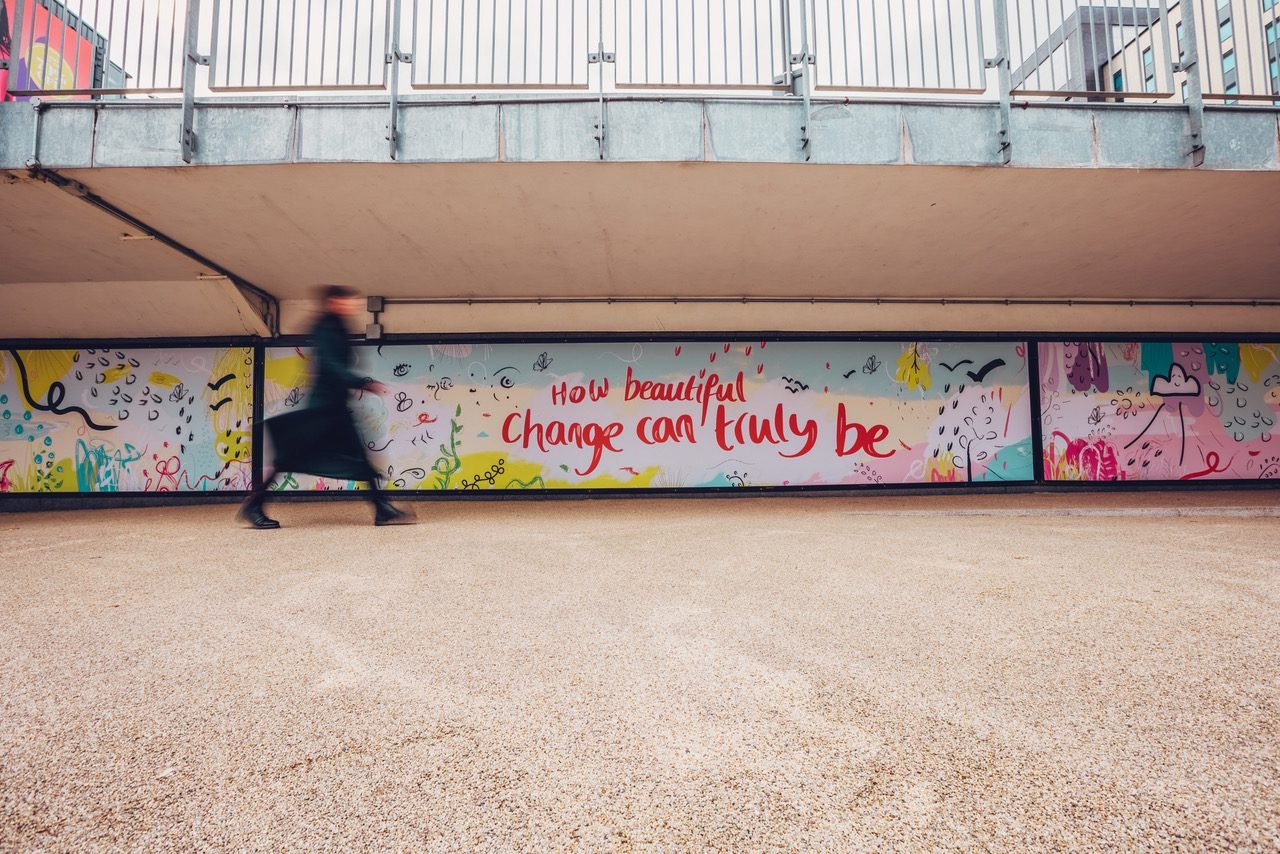 Wembley Park finds new ways to boost the spirits of its residents and attract new visitors
As a result of Covid-19, Wembley Park found new ways to boost the spirits of its residents, attract visitors, and support artists, including such initiatives as its outdoor public art trail launched in September 2020. Since this time, the neighbourhood has played host to public art installations and murals created by internationally renowned artists from around the globe, including colour superstar Remi Rough, and world-famous French street photographer JR.
Adding to the existing trail, 'Figures of Change' takes shape across a myriad of unconventional outdoor canvases in site-specific locations around the neighbourhood. Upon exiting Wembley Park tube station, visitors are faced with high-impact positive messaging of digital artworks that illuminate several digital totems as well as the dramatically transformed Bobby Moore Bridge. Further along Wembley Park's recently revamped Olympic Way, a brightly coloured, large-scale 23 x 23m floor mural is on display. Opposite the new Olympic Steps, unveiled by Wembley Park in June 2021 ahead of the postponed EURO 2020 Games at Wembley Stadium.
The works also reflect the theme of IWD2022, #breakthebias, a global call to tackle discrimination, celebrate our differences and forge an equal future. Exploring the positive shifts in attitudes towards women and a collective desire for change following a hugely destabilising global pandemic.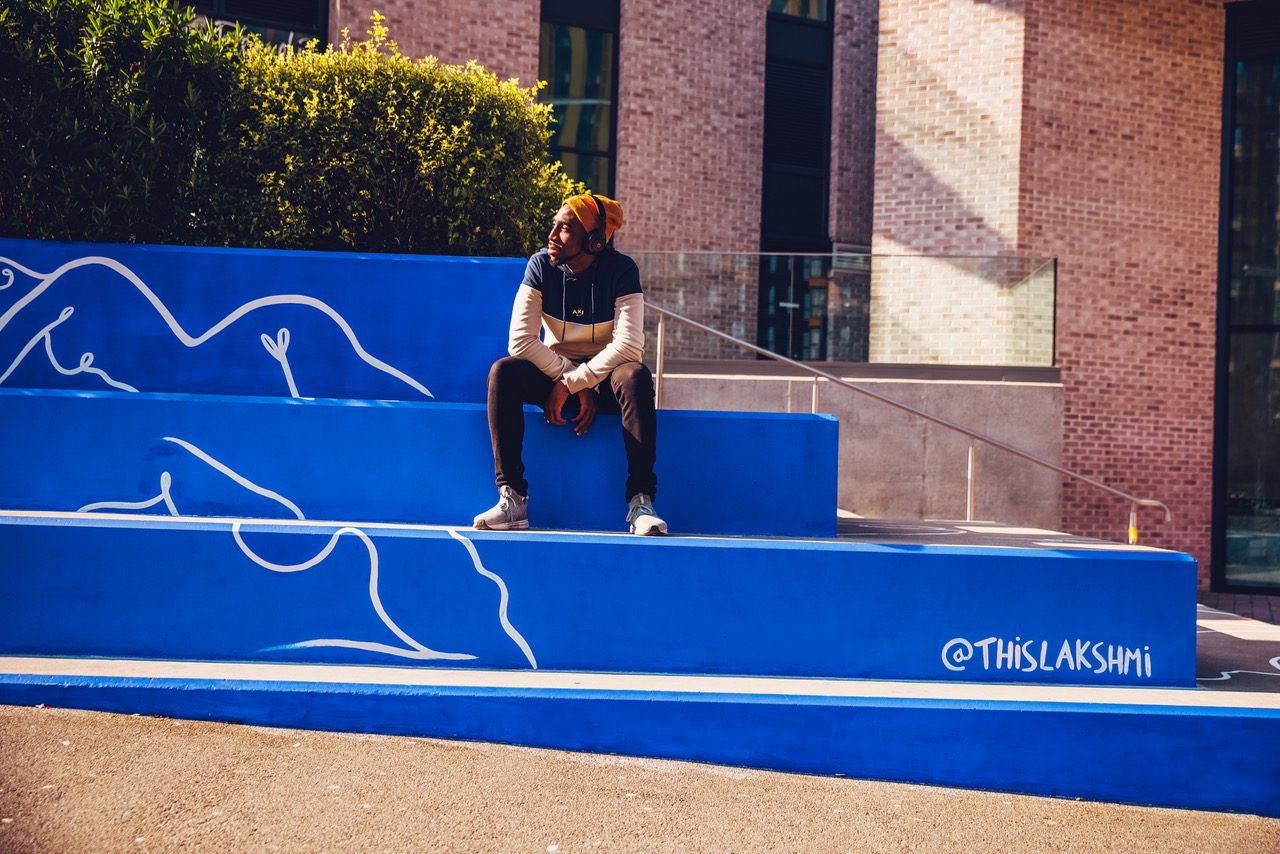 Market Square will feature an outdoor photography exhibiton gallery from women around the world
The roster of artists and curators includes Sofia Cianculli, Laxmi Hussein, Lois O'Hara, Sarah Blackwell, Charley Peters, Zoe Slatter, Stephanie Rausser, Jennifer Latour, Henriette Sabroe Ebbesen, Christelle Boule, Esperanza Moya, Maria Luneva, Thirza Shaap, Karina Twiss, Wami Aluko, Liz Von Hoene, Zoë Allen and Averil Curci.
Market Square will feature an outdoor photography exhibition gallery by women from around the world, curated by Averil Curci. Leading onto a trio of eye-catching phone boxes and a succession of shooting stars over the iconic Spanish Steps which link the newly named OVO Arena and Wembley Stadium.
Brent resident Laxmi Hussain's work, Landscapes of Women, is a tribute to the female form celebrating the diversity of women throughout the borough. In an abstract way, the playful installation aims to emulate landscapes as well as represent the organic curves of the human body. To engage the community Laxmi will invite the public to paint one section of the proposed installation, which will then be titled 'painted by the local community of Brent.'
Lois O'Hara's giant floor mural, Think Independently Together, aims to be a welcoming space for multi-generational connectivity, developed alongside young local adults whose critical feedback shaped the final visual. The intention is to create a joyful space that celebrates the diversity in the area using an eye-popping colour palette and interlocking shapes, encouraging connection and interaction after two years of isolation. The installation draws inspiration from the Wembley Park map seen from the bird's eye view, The playful lines which collide with each other have an almost fluid and game-like quality; the hope is for them to be literally inhabited echoing the aims of the `collaborate' zone in the formal public space intervention.
Sofia Cianciulli's project, e-motion, explores themes of the body, self-love, movement, feelings, connection, and disconnection. Appearing on the iconic Bobby Moore Bridge at the entrance to Wembley Park, the digital artworks provide high-impact positive messaging, which continues on the tall digital totems that frame the famous Olympic way, and onto playful phone boxes, the works are illuminated and at night provide a truly powerful message, presenting life-sized figures to suggest a level connection with the audience. The blurry representations of a woman dancing, running, or reading channel the essence of the theme "…how beautiful change can truly be" and express the artist's personal experience of shifting emotions from negative to positive – disconnecting from the outside noise in order to reconnect mind and body, and finally upgrading her experience of reality.
Illustrator Zoe Slatter's work is inspired by the sweeping curve of Wembley Stadium, the people of Brent, International Women's Day and Spring. Her installation blends typography and illustration with a colour palette echoing colours from the non-binary/transgender flag, highlighting the theme of 2022 International Women's Day #breakthebias.
Charley Peters' Power Up! is a site-specific artwork made for Wembley Park's Spanish Steps, depicting a succession of shooting stars that seem to rise up as a mirror to the perseverance and resilience of women's voices. Using a spectrum of colour to reflect the diversity of women's experiences, the stars move onwards and upwards in an arrangement of solidarity for International Women's Day 2022. It is a positive, uplifting artwork that is futuristic and otherworldly and yet also familiar – with the title acting as a bold reminder of the strength that can be found through both community and individuality.
Floating Seasons by Sarah Blackwell is a stunning and thoughtful installation of flags inspired by the different trees dotted around Wembley Park, namely the Golden Raintree and the Lime tree. Combining different types of leaves and colours to represent different plants and seasons, the final design effects a sea of blues and greens, sparkles of yellow and the occasional punchy note of red or orange, dancing together with the wind.
Josh McNorton, Cultural Director, Wembley Park said: "We are delighted to bring together a multicultural collective of female artists from around the world, on an array of new and unexpected canvases spearheaded by curator and long-time Wembley Park collaborator Zoë Allen. Their work will bring a unique, bold, surprising, and thought-provoking experience to Wembley Park. Our hope is that Londoners, our residents and visitors alike connect with the work with a sense of belonging and pride."
Zoë Allen, the curator, added: "We've had little to no access to culture and the arts throughout the global pandemic and we've been starved of inspiration – something that's so important for the human psyche, so inspiration and accessibility are two of the major driving forces behind this art trail. The project creates a wholly accessible public art trail, providing a unique and exciting platform for artists to showcase their work, and hopefully leaves you feeling inspired for Spring, the future, and how beautiful change can be…"
Wembley Park
Wembley Park is London's most exciting new neighbourhood. Already home to the iconic OVO Arena Wembley (formerly The SSE Arena, Wembley) and Wembley Stadium. It is building on its international reputation for music and sporting events and becoming a landmark destination with culture, entertainment and community at its heart.
As a neighbourhood, Wembley Park includes over 4,700 new homes, shops, and places to work. As well as attractive public spaces, with parks and gardens, public squares and wide boulevards for locals and visitors alike to enjoy. When completed, nearly half of the 85-acre site will be open space and private gardens. Wembley Park will be home to the largest single-site of Build to Rent in the UK, with over 6,000 homes, all managed by Quintain Living.
Wembley Park's cultural strategy features a year-long programme of free public events.
Recent highlights include the award-winning International Busking Day, an annual music festival supporting street performance; Winterfest, Wembley Park's immersive lights festival; Wemba's Dream, a performance festival co-produced with the Royal Philharmonic Orchestra, which will soon be moving its headquarters to the neighbourhood. An extensive public art programme animates Wembley Park's open spaces, with recent commissions by JR, Jason Bruges, Mr Doodle, Pref, Miriamandtom, Vivien Zhang and Maser.
The Yellow, a purpose-built neighbourhood centre entirely funded by Wembley Park, provides a weekly programme of community activities, ranging from youth theatre to Indian classical dance. The neighbourhood boasts the 2,000-seat Troubadour Wembley Park Theatre, and affordable artist studios, run by Second Floor Studios & Arts. It is also home to London's largest BOXPARK, featuring a whole floor dedicated to gaming and immersive VR experiences. Wembley Park is just 12 minutes from Central London.
Follow Wembley Park on Twitter, Instagram, or Facebook
About Artistic Statements
Founded by curator and art consultant Zoë Allen, Artistic Statements creates impactful art installations. Connecting people to place through engaging artistic interventions whilst supporting creative talent by finding unique opportunities to showcase artistic skill.
Artistic interventions can take many forms; from pop-up immersive displays for events, outdoor graphic murals and temporary interactive installations, to large-scale permanent public artworks, digital animation design, lighting sculptures and more.
Artistic Statements help answer commercial objectives through art and manage the process from the initial brief through to design development and implementation.
Averil Curci
Averil is a London-based art advisor specialising in Photography. Her work focuses on acquisitions, sales and commissions for international private clients. She also mentors photographers providing creative direction and strategic and commercial advice.
Averil has 15 years of experience working in the art world – starting in New York where she was the director of Hamburg Kennedy Art Advisory & Projects, an established photography consultancy. Later she became the director of Brancolini Grimaldi, a contemporary photography gallery born in Florence and Rome which expanded to London, Mayfair in 2011. There she worked closely with both emerging and established artists, curating exhibitions and art fairs, and developing special projects, events, and publications.
About the Artists
Sofia Cianciulli
Sofia Cianciulli is a multi-disciplinary body artist from Florence, Italy. Cianciulli grew up surrounded by Renaissance art history's sexual connotations and later was influenced by the individualism and diversity of New York feminism. After completing her MA in Fine Art and Central Saint Martins, Cianciulli was shortlisted for The Ingram Prize. Cianciulli combines painting, performance, digital media, and augmented reality to consider the female body in the post-feminist media age. Her work reflects upon the entangled and co-dependent nature of millennials and the internet. Responding with absolute transparency to modern narrative conventions that are an inextricable part of her reality.
www.sofcia.com / @sopmetries
Laxmi Hussain
Elegant and ethereal but also precise and geometric. Laxmi Hussain's drawings and paintings exist somewhere between the abstract and the realistic. Often presenting what appear to be the free-flowing organic forms of the body through intricately ordered patterns. Her finely detailed line forms are rooted in a fascination with architecture. A subject she studied for several years before becoming disillusioned with the constraints and rigidity of the discipline.
Her inspiration comes from the forms encountered in everyday life, from the body, the tenderness of motherhood, the natural shapes of the body as a vessel and its evolution as it moves through life.
www.thislakshmi.com / @thislakshmi
Lois O'Hara
In today's world, we are constantly distracted and our own flow through life gets broken and disjointed. Lois's brand ethos explores how colour can have positive effects on people and places. By exploring movement in design, Lois believes that this is an effective way of gently encouraging people to 'move'; whether that be physically or emotionally in their minds. Her unique colour combinations and use of curves make her style so recognisable. Lois's vibrant, diverse, and creative practice takes in Large Scale Mural Painting, Design & Art Direction, Interior Design and Public Art.
www.loisohara.co.uk / @loisohara
Charley Peters
Charley Peters makes artworks where abstract language and contemporary screen aesthetics collide. Remixing familiar motifs from art history, retro gaming and the Internet on canvases, walls and public spaces. She sees her work as being similar to creating fantastical worlds where diverse pictorial elements exist together in unique, dynamic configurations full of visual energy, colour, abstract shapes and graphic symbols. Her work has developed from a belief that everyone deserves their own place to belong. If you don't fit comfortably into the real world designed by other people, then you have the power to make your own.
www.charleypeters.com / @charleypeters
Sarah Blackwell
Sarah Blackwell is an artist and dancer that has a focus on community engagement. Her artwork consists of mixed media portraits, nature, animal and monster illustrations and has started producing digital pieces.
She produces art and dance workshops and events with community engagement in mind. And is part of Inspiralarts which is a dance and performing arts community-focused group.
@rev66
Zoe Slatter
Zoë Slatter is a London-based illustrator and graphic designer inspired by the movement of our bodies and nature. Following a childhood in the countryside, Zoë moved to London to pursue a career in design and channel her love of dance and nature throughout her work. Zoë believes that dance can be transformative as a storytelling platform and explores this intersectionality with graphic design and illustration. This relationship is shown through Zoë's use of quirky nature symbols and figure drawings that can be displayed on their own or layered over graphic design, static photography and moving image, bringing the work back to life. As an artist, Zoë believes that even the most simplistic objects can be made to move.
zoeslatter.com / @zoeslattercreates
Outdoor Gallery:
Featuring work by Stephanie Rausser, Jennifer Latour, Henriette Sabroe Ebbesen, Christelle Boule, Esperanza Moya, Maria Luneva, Thirza Sharp, Karina Twiss, Wami Aluko and Liz Von Hoene. Transformation is liberation. As we emerge from a period that tried and tested us, we witness what we have become. With creativity and perseverance, our spirits rise and together we face a new time. We have learnt with renewed clarity the importance of our connection to Mother Earth. She grounds us and teaches us about adaptation and resilience. The photographers presented here to root the inspiration of their practice in the natural world. The tenderness of our relationship with the outdoors is revealed together with portraits that symbolise an exuberant strength of spirit. From inventive hybrid floral sculptures to astounding assemblages made from found plastics, the artists push boundaries in their quest to represent beauty.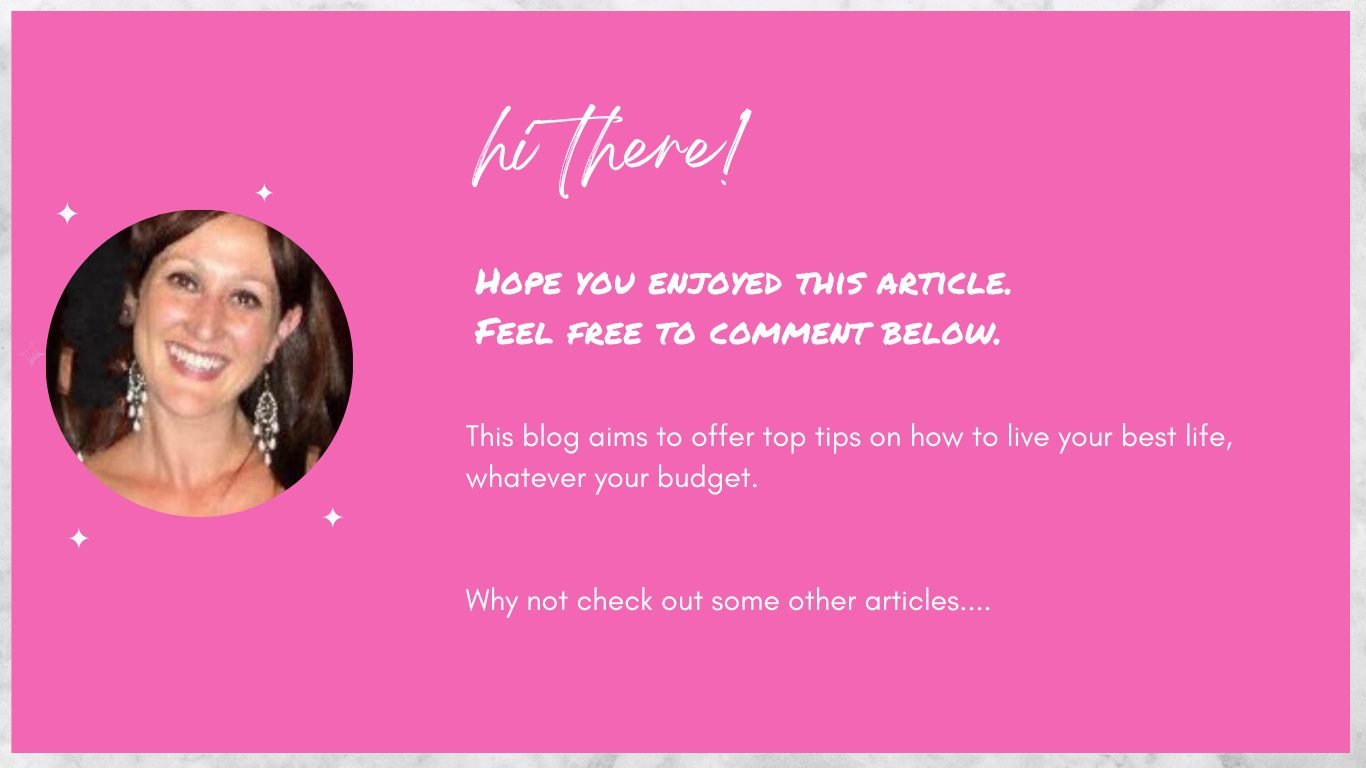 Other articles of interest