10 Top Tips for home isolation
NHS Guidelines for self-isolation have now been superseded by the COVID-19: stay at home guidance. If you need to self-isolate but do not need to go to the hospital. It's key to follow advice on how to manage your physical health.
Staying indoors and away from anyone is not easy. So I thought I would offer my 10 Top Tips on how best to manage home isolation looking at both your physical health and how to keep your sanity!
1. Completely isolate yourself
When you are self-isolating you can not go to work, University, or any public areas. It is important that you do not use any public transport or taxis until you have been told that is safe to do so. If you are living with your family, partner or housemates. You must isolate yourself from everyone else. Not easy to do but essential right now.
2. How to navigate self-isolating at home
The government website states that you should not share dishes, drinking glasses, cups, eating utensils, towels, bedding or other items with other people in your home when you have used them. After using any of these items, wash them thoroughly with soap and water. Dishwashers may be used to clean crockery and cutlery. I personally would have your own mug, plates, bedding and towels separate from everyone else.
If you need to wash your laundry at home, then wash it all at the highest temperature compatible for the fabric using laundry detergent. This should be above 60 degrees C. If possible tumble dry and iron using the highest setting compatible with the fabric. Do not take laundry to a laundrette. Wash your hands thoroughly with soap and water after handling dirty laundry (remove gloves first if used).
3. Routine is important
Without a routine, you will just stay in bed all day. The less you do, the more tired you will become. My top tip is to shower and get dressed as if you were going to work. Show up for the day.
If you have access to other rooms in your house/flat, then spend different times of the day in different rooms if no-one is about. When I was off for a few months, looking for another job. I showered, dressed and spent breakfast watching GMTV, before spending time back in my bedroom job-hunting. I then came back into the dining area to watch Loose Women and the News. Answering emails and doing my blog before going back to my bedroom to work at my desk.
If you can only self-isolate in your bedroom it's so important to keep this as a sanctuary. Make sure you set aside times for emails, work but then also time to rest and relax. If you are feeling under the weather, it's important to let your body rest.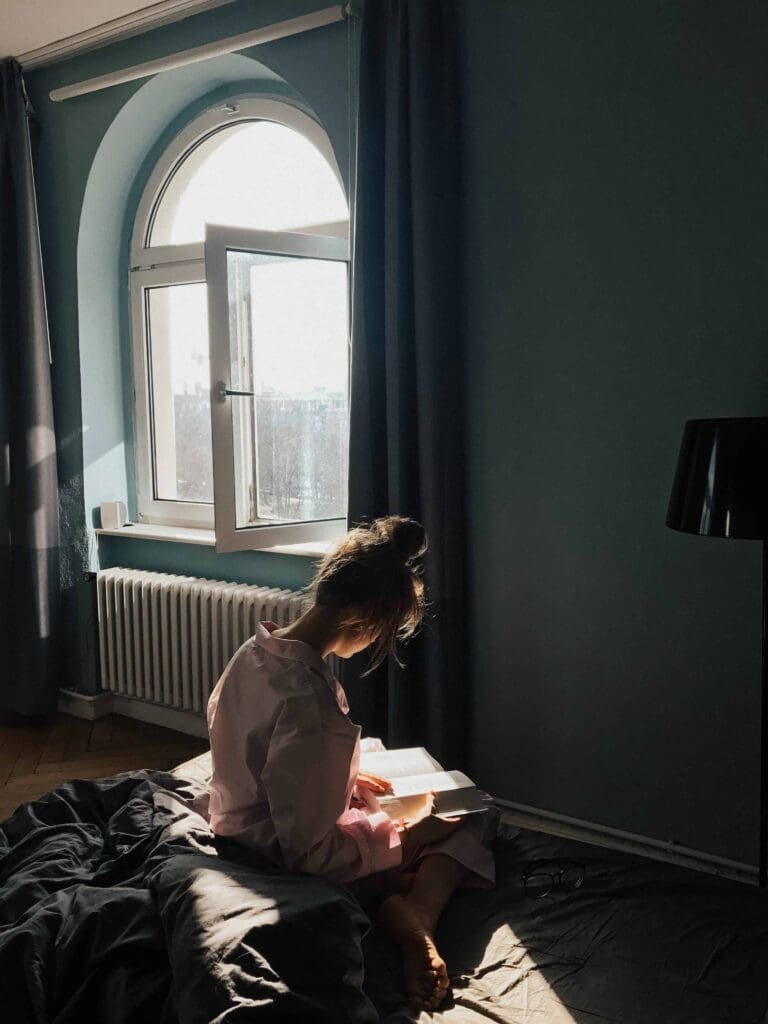 4. Your bedroom is your world right now
I live with housemates, so my bedroom doubles up as a bedroom/study. If you are self-isolating, your world will become very small, very quickly.
A deep clean of your room will make you feel so much better. It will also feel less claustrophobic operating out of a tidy room! Make sure it is well-ventilated and keep a window open where possible.
Nothing feels better than clean bed sheets. I am asthmatic so I have to keep everything dust-free and wash my sheets regularly to kill bed mite. Make your bedroom is somewhere you can fully relax in. If you need to use it as a study then make sure you keep this dust-free and tidy too.
5. Working from home
Many companies are now asking their employees to work from home. I have always worked for companies which have been accepting of working from home when necessary.
When it comes to working from home. You need to think about how you set yourself up for the day. Don't just stay in bed all day. Get up and dressed. Shower. Show up for yourself.
You should also find out what social etiquette is for your company. Does your line manager expect a morning email to check-in or give an update? What have HR communicated out to the team? It's important to communicate with everyone to make sure they are happy.
6. Order in
Whether you need groceries, medication or general supplies. Order online. Insist all deliveries are left outside rather than personally accepting any deliveries. This isn't a time to start ordering pizzas or curries. You still need to eat healthily and keep costs down. We live in a digital world. Order online to make your life much easier. However, anticipate demand. Already you can't book a food delivery for another week. Toilet paper seems to be out too!
7. Maintain a healthy diet
To keep your immunity up, eat as healthily as you can. I have started taking additional vitamins (89p from Aldi). Keep eating meals throughout the day, not snacking on rubbish. Drink lots of water throughout the day and make sure you catch up on your sleep right now.
8. Discover new things
Use this time to discover new music. Join an online group. Start a short course. I love seeking out new music. You don't need to be sitting in the office listening to other people's music. Find your own. Read a book. Use this time to discover new things to watch and listen to. You can even start an online yoga course such as Stretch Appeal, who will teach you from the comfort of your own home.
9. Keep in touch with other people
Facebook, Twitter, Whatsapp, phone calls. Make sure that you keep in touch with, not just with your friends, but with your family too. We all need to rally round and make sure everyone in our network is ok. I know my anxiety has gone through the roof, switching on the news each day. It's time to look after one another, even if it is remotely.
10. Relax!
Use this time to relax. Catch up on some brilliant TV on Netflix. Read a book. Blog whilst you spend time at home. Play games. Listen to music. Watch a film. Whatever you do. Relax. In turn, it will help your body and overall health. Stress and anxiety wreak havoc on your immune system. So kick back and use this time to relax!.