How to have a beautiful wedding on a budget
Last year one of my best friends Lauren Naylor chose to get married during the pandemic to her soulmate – now-husband Rob.
Both planned to marry in 2020, but unfortunately, it was cancelled due to COVID. However, when Lauren received a wedding cancellation from Chelsea Town Hall, she managed to organise a wedding for just around £2,500 in under 4 weeks!
Lauren kindly shared her beautiful photos with me from her big day and her 'Top Tips' for how you can organise a beautiful wedding too in lockdown.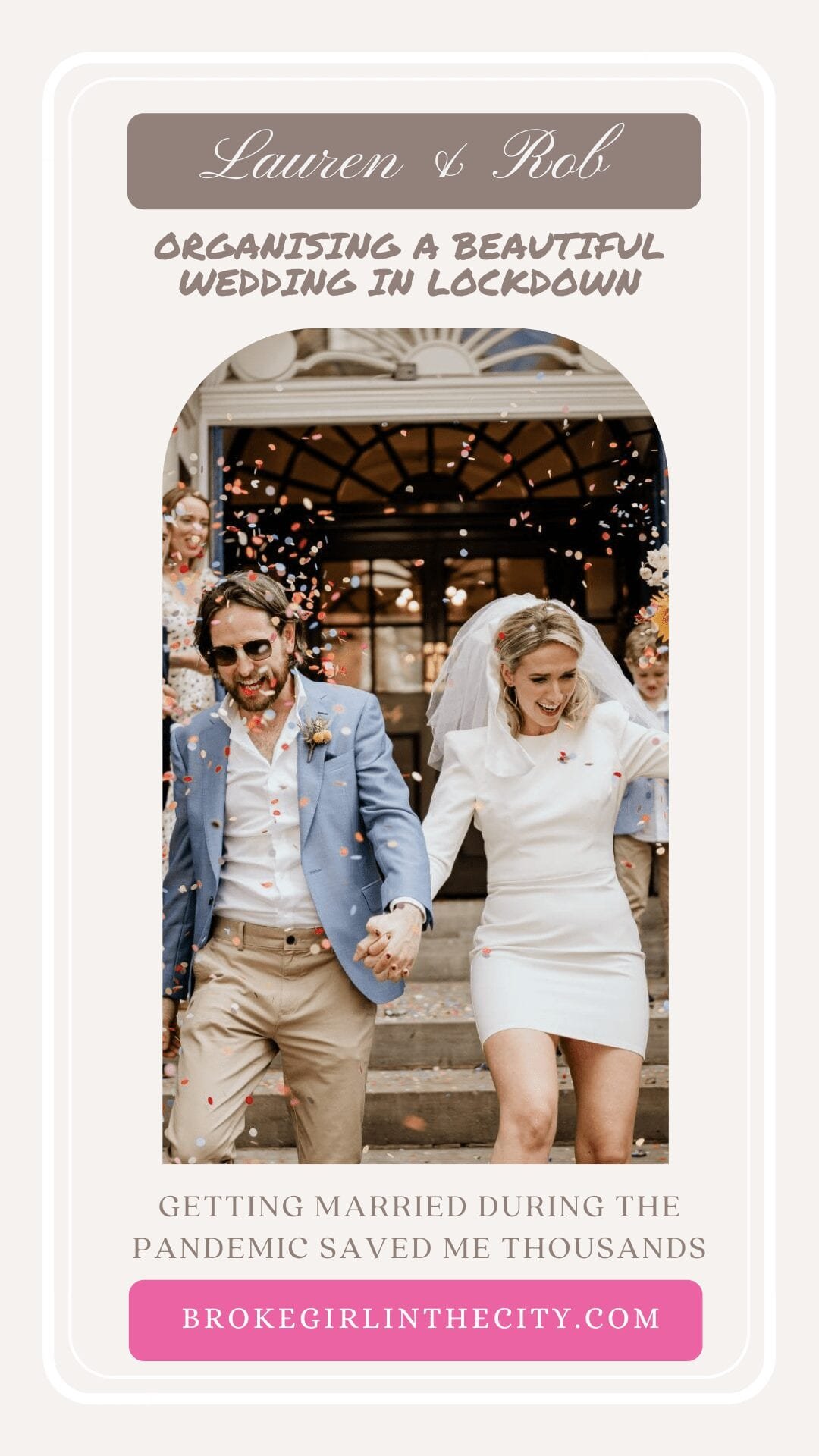 As we ease out of lockdown, I wanted to share Lauren's Top Tips from her beautiful day!
Lauren Naylor is a beauty brand consultant from Leigh-on-Sea in Essex who had her dream May wedding cancelled. Last year we didn't know when lockdown would end, but Lauren seized the day when Chelsea Town Hall rang her at the end of July with a cancellation date of August 20th. It's a good job. Lauren is so amazing at organising beauty events! Looking at the wedding photos below, who could have dreamt of such an incredible wedding in record time?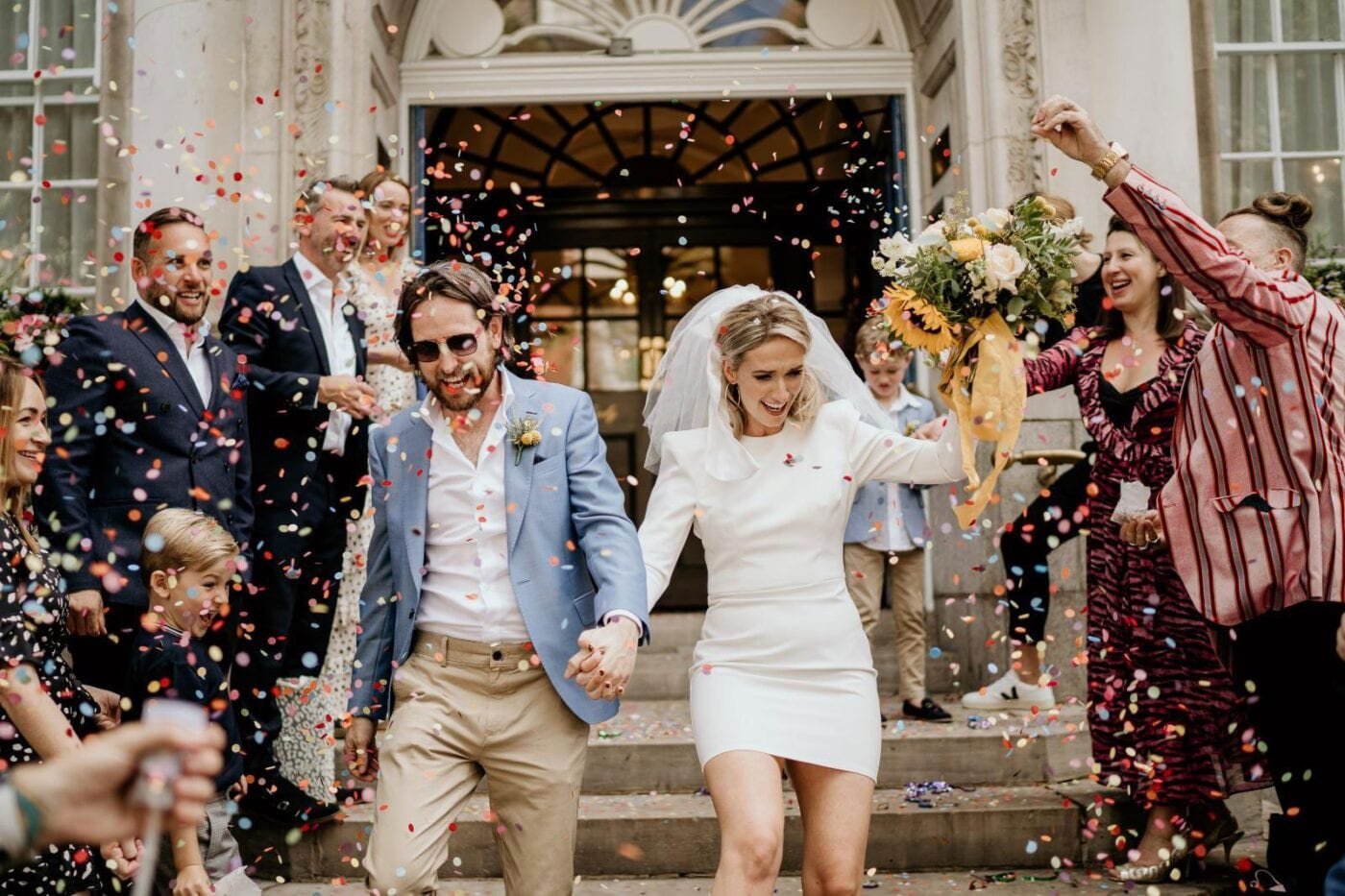 How many people were on the guest list?
When Lauren received the call from Chelsea Town Hall. She thought she would only be allowed seven people, including the photographer, at her wedding. She only found out on August 13 – one week before the nuptials – that the government would allow 30 guests to a wedding. It was only 15 in total allowed, including all photographers etc.! x
Due to her parents being clinically vulnerable, she asked them if they would be upset if she went ahead, but they supportedly told her to go ahead. Very close friends and family attended to cheer them on their special day, including her son Albie.
Getting married during lockdown
Lauren was former The Sun's beauty editor and is now an expert beauty brand consultant and PR. Many friends and former colleagues helped her prepare for the day for free. However much of it, Lauren organised herself.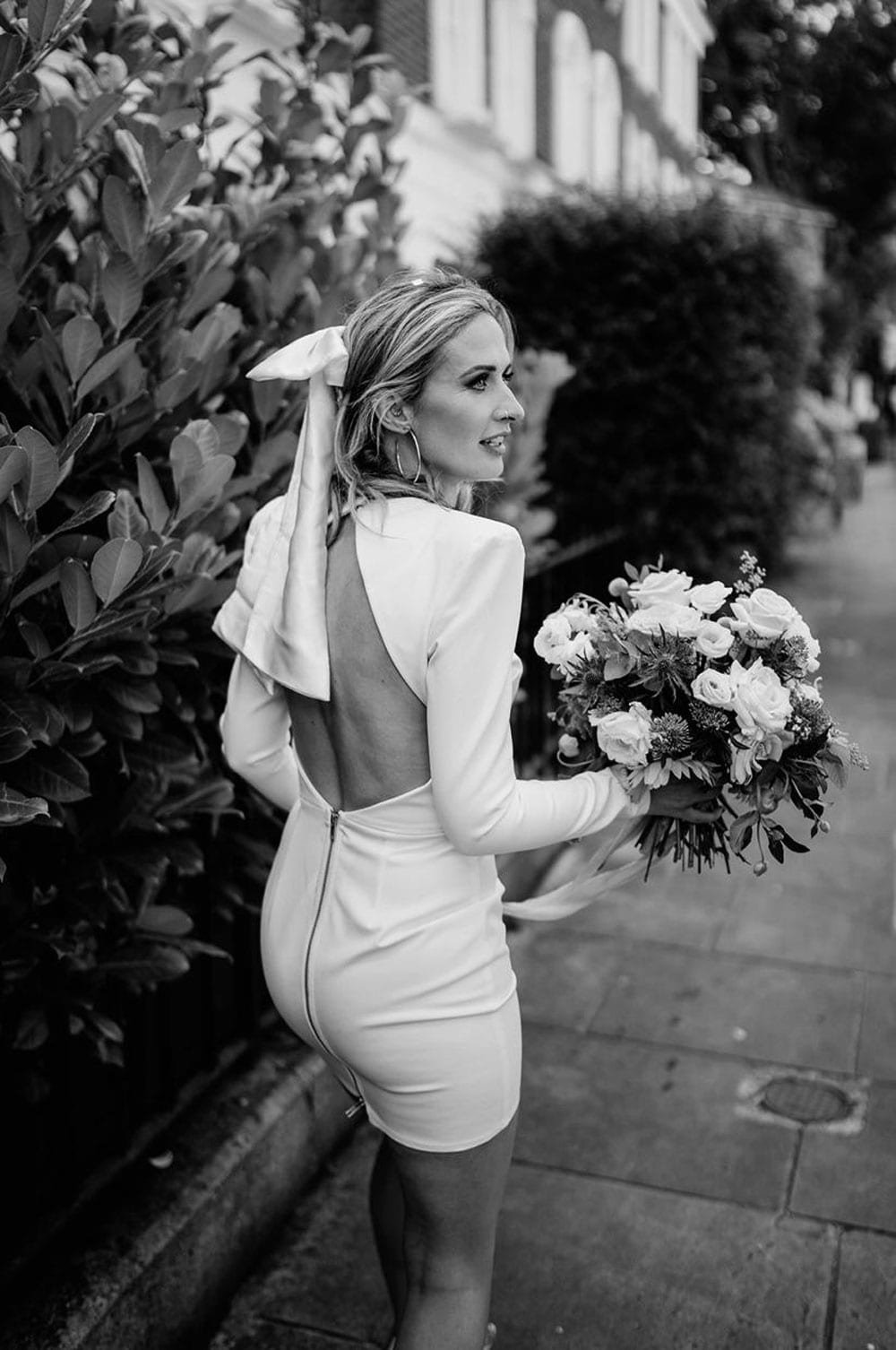 The Dress
Lauren bought a little ivory dress online, costing £800 by Alex Perry, to replace her original dress. I think you can agree. She looks absolutely stunning. I personally love the backless style and hope this shapes and embraces her svelte figure.
The Veil
Lauren purchased an 80s-style veil from Etsy for £20 for the big day. It really matched the dress.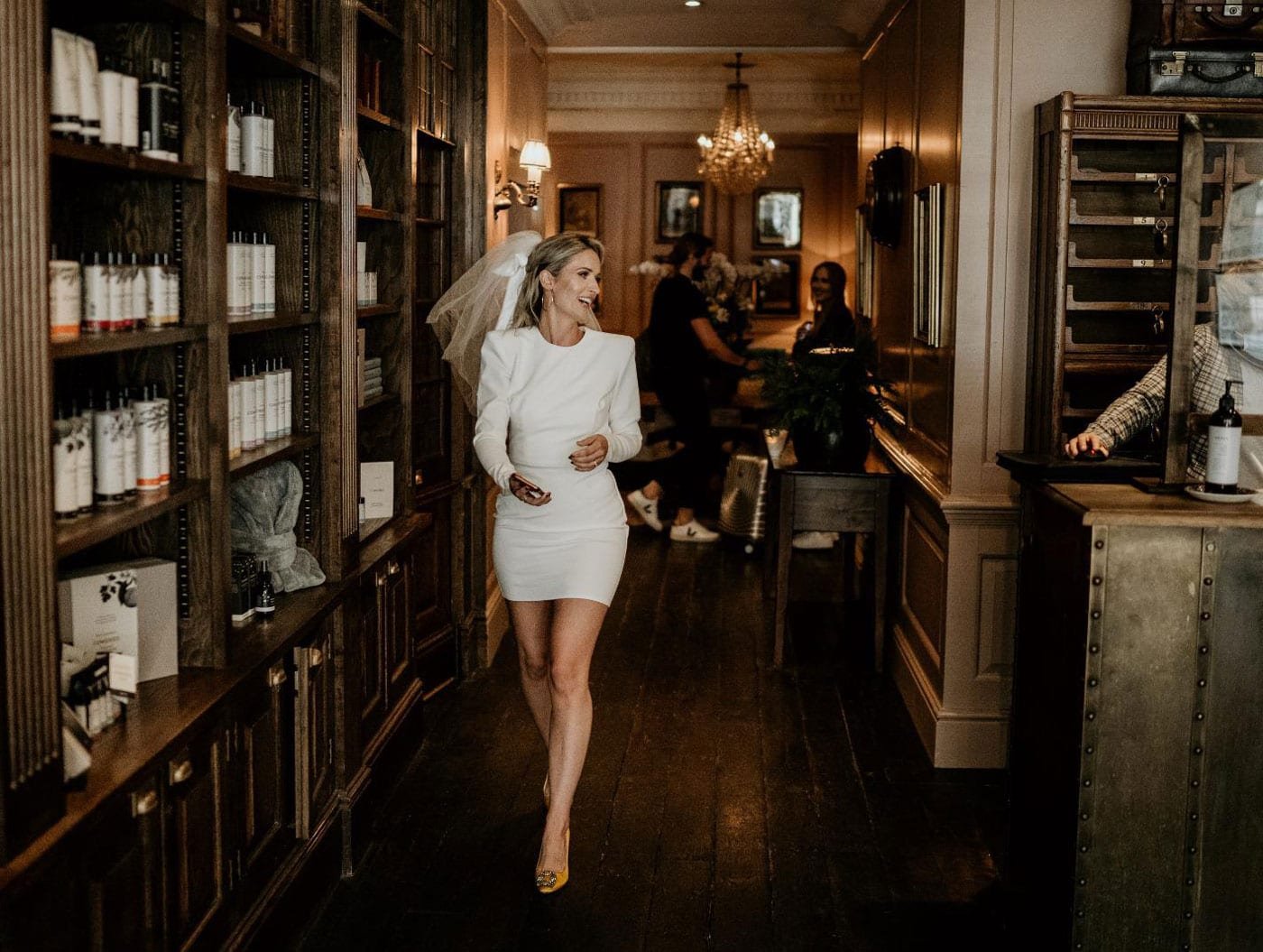 The Shoes
What incredible yellow shoes to celebrate a summer wedding! I had to steal this from Lauren's Instagram to show you just how amazing they are.
The Wedding
Lauren booked a local black cab from Leigh-on-Sea to transport the wedding group, videographer and photographer to the venue. Lauren chose a yellow-themed wedding, choosing sunflowers to match her yellow shoes. Rob wore matching flowers on his jacket, chinos and a blue jacket to create a summer look.
Not everything went to plan as her parents looked on at the wedding nuptials via Zoom on mute as someone had forgotten to put on the sound! Despite a quiet wedding, Lauren
The Reception
The wedding reception was held at The Phene, near King's Road in Chelsea. You might recognise the gastropub from Made in Chelsea. It's often a location for filming the show, as the pub is owned by Tiff and Lucy's father, Clive Watson.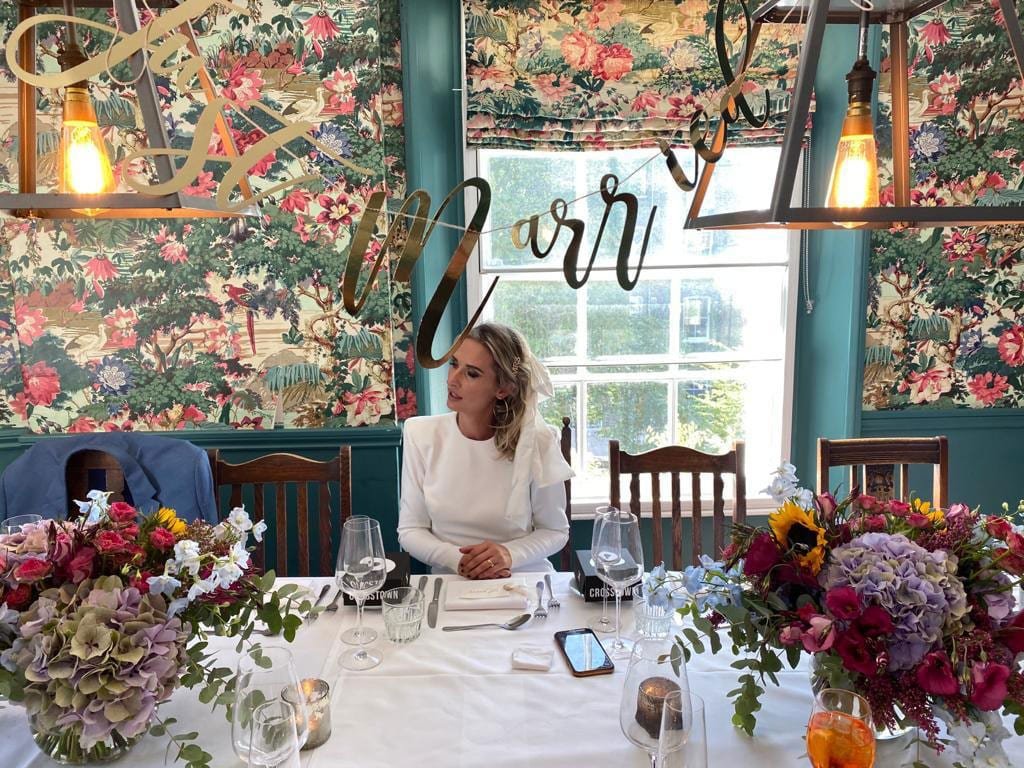 Breakdown of the wedding budget for getting married:
| | |
| --- | --- |
| Flowers from Penny Jane Flowers in Leigh-on-Sea | £100.00 |
| Dress from Net-a-Porter | £800.00 |
| Makeup, hair, video (friends) | £0.00 |
| Veil from Etsy | £20.00 |
| Groom's Outfit from Topman. The jacket was part of an £800 suit. | £20.00 |
| Wedding Favours (donuts!) | £80 |
| Taxi | £180 |
| Confetti | £30.00 |
| Name table placements | £30.00 |
| Cake | £90.00 |
| The Phene Pub | £1,200.00 |
| (£50 per head food, welcome drinks & booze) | |
| | |
| TOTAL: | £2,550 |

Top Tips from Lauren Naylor
"I will be throwing a big party for my beautiful friends (the December wedding we've not had yet but paid a deposit for!!!). Typically, I've not even organised it yet! Nothing like weeks to sort a wedding, haha.
The summer's day we opted was just incredible. I was giddy for days.
Perhaps because the pressure was off, it was fun, unplanned, and I know it gave many others hope to go ahead in challenging times."
1. Be prepared. Anything can change at very short notice – do not stress.
The main goal is to get married, regardless!
2. Enjoy the day!
The smaller the group, the more intimate it is. Soon weddings will be a bigger size, so if you have decided to take it smaller, relish the fact you'll be able to talk to everyone!
3. Question anything you feel doesn't make sense
I thought the fact we were allowed to walk down the aisle together but not walked down by my son was arbitrary, so of course, I argued it!

Wedding and civil partnership ceremonies
Weddings and civil partnership ceremonies will be permitted for up to 30 people in COVID-secure venues that are permitted to open.
Alternative wedding ceremonies and weddings under the law of England and Wales are permitted to take place outdoors, with up to 30 people, including in COVID-secure venues or private gardens.
Receptions, celebrations and viewings
Receptions and celebrations will be permitted to take place with up to 30 people. They can take place either indoors in a COVID-secure venue (this does not include private homes), or outdoors (which does include private gardens). Although there is no requirement to be COVID-secure in a private garden, the organiser should take all reasonable steps to limit the risks of transmission and must adhere to the gathering limit of up to 30 people.
A broader range of venues will be able to be open at this step, as set out in the roadmap. Any venue which is not required in law to remain closed will be able to host events and allow viewings with appropriate COVID-19 mitigation measures in place. This includes, for example, any restaurant or indoor visitor attraction.
New Rules from 21 June
At Step 4, the government aims to remove all limits on weddings, civil partnership ceremonies and receptions.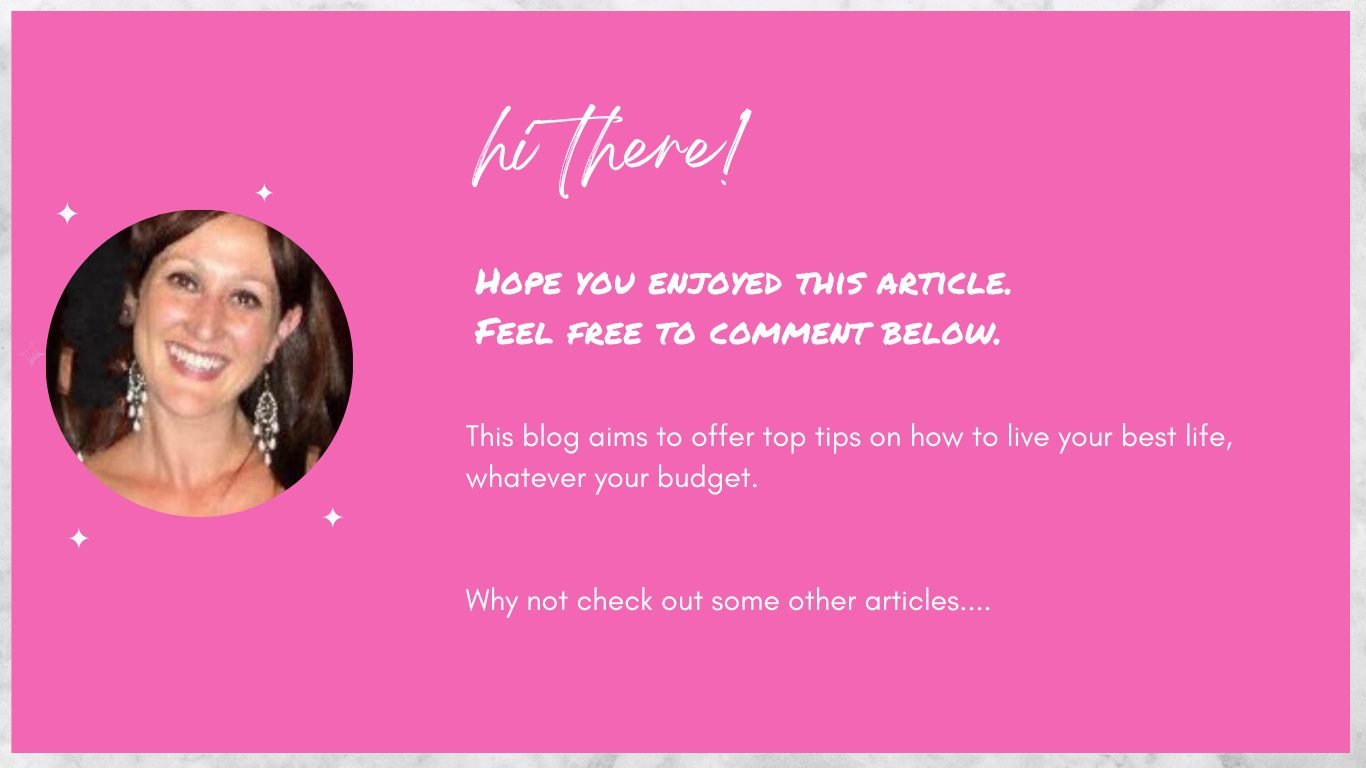 Other Articles of Interest