International Women's Day is celebrated on 8th March each year. The theme for 2018 is #BeBoldForChange.
It is up to every one of us to 'be the change you want to see in the world (Gandhi). Be that woman who uses your own sphere of influence to help others in the workplace. Support other women in your personal life. #BeBoldForChange looks to make this a more inclusive, gender-equal world.
About International Women's Day
According to the UN, International Women's Day is "a day when women are recognised for their achievements without regard to divisions, whether national, ethnic, linguistic, cultural, economic or political. It is an occasion for looking back on past struggles and accomplishments, and more importantly, for looking ahead to the untapped potential and opportunities that await future generations of women."
Lots of activity has been running across the country, with many events happening on Southbank this week. According to the International Women's Day official website, IWD is actually an official holiday in many countries including Afghanistan, Cuba, Nepal (for women only), Russia, Uganda, Ukraine, Vietnam and Zambia. The tradition also sees men giving their mothers, wives, girlfriends, colleagues, flowers and small gifts. In some countries, IWD has the equivalent status of Mother's Day where children give small presents to their mothers and grandmothers.
Wear Red today!
A colour that symbolises revolutionary love and sacrifice. Many women have worn red today to commemorate this day.
#ADayWithoutAWoman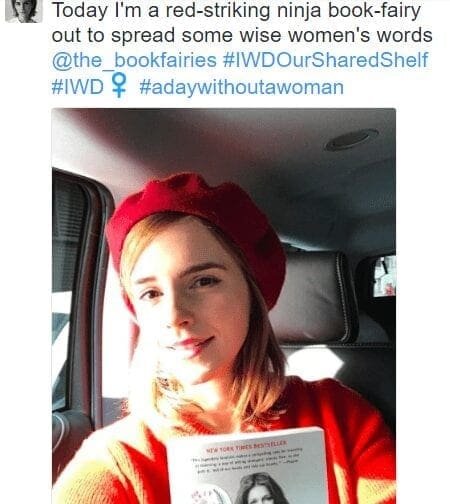 Strikes have taken place around the world today. The goal of this demonstration is to show that woman's presence should not be taken for granted and to highlight disparities in rights and pay.
Equality for all
Much progress has been made, but the message of this campaign is clear. We should boldly push for change. It is our collective responsibility.
Whether it's sexism or misogyny in the workplace, discrimination when it comes to a promotion or salary increase, harassment or stalking, we have all faced something, if not all of these in our lifetime.
With female equality seemingly high on the political agenda as Trump's ascent to power has put it under the spotlight, elsewhere in the world, women have still yet to receive the most basic of rights. It is our duty as women everywhere to use our sphere of influence to help others within our own environment, but also feel responsible for others, elsewhere in the world.
"Feminism is about giving women choice. Feminism is not a stick with which to beat other women with. It's about freedom, it's about liberation, it's about equality" Emma Watson
We live in a digital age, where we can learn to write and code. We can build our own blogs and websites to use our voices for good. Become a leader and support others. Start your own business and contribute to just causes.
We can all make a difference. What will yours be?
"I think every woman in our culture is a feminist. They may refuse to articulate it, but if you were to take any woman back 40 years and say, 'Is this a world you want to live in?', they would say 'No.'" – Helen Mirren