Interview with talented musician Nathalie Miranda
We are delighted to announce the new single by talented UK London based vocalist and songwriter Nathalie Miranda – the intriguingly titled 'Catch-22' – a tale of being addicted to love, despite being hurt in the process. Something we can all identify with.
Learn more about Nathalie, her new song, and read her full interview with Broke Girl in the City.
Nathalie Miranda is a fully-fledged soul belter; a power-house vocalist with a stunning 4-octave range.
This emerging artist is a force to be reckoned with. Notable for her unique, soulful voice and high energy performances, Nathalie delights in engaging her numerous fans on Patreon with special live streams and exclusive online performances. Hot on the heels of her single 'Poltergeist' earlier this year, the new single 'Catch-22' is out now and available on all major download and streaming platforms.
Born in London to Greek-Cypriot parents, Nathalie was raised bilingually speaking Greek and English and is fiercely proud of her Cypriot roots. It is clear where she gets her talent and love for music: music and performance is so deeply ingrained in Nathalie's family it is practically part of her DNA! Her grandfather was a violinist who worked for many years in Cyprus as a professional musician and continued to do so when he came to England in the 1960s. She also has cousins in Cyprus who are professional musicians. Nathalie started piano lessons aged 6, but it was singing that really appealed to her, but she was too shy to explore it openly. Then, aged 15, on holiday with her parents, she decided to get up and sing 'Hopelessly Devoted to You' at a karaoke night.
She remembers this as a turning point "I got up, took a deep breath, and sang (with my back turned to the audience) and I was so scared, but I got a great response and my parents were truly shocked. That was the start of it all really. I realised that I was going to be a singer, and I would do everything to make that happen."
Her performance inspiration is drawn from the greats: Freddie Mercury being her idol closely followed by Etta James, Aretha, Whitney, George Michael, Prince, Bruce Springsteen and Christina Aguilera. In terms of writing music, her inspiration is a little closer to home: she is married to a fellow musician with whom she has a long-standing writing relationship.
Nathalie also collaborates with other writers and features as a vocalist on several House tracks.
She also appeared on a 'Later… with Jools' show in 2018 as a backing vocalist for the band James. But her true ambition was to be centre stage and releasing her own music for the world to enjoy. Her first release was in 2017, an EP called 'Bulletproof', containing the songs 'Red Light', 'Bulletproof' and 'We Got It Right'. The next single 'Poltergeist' was released in March 2020.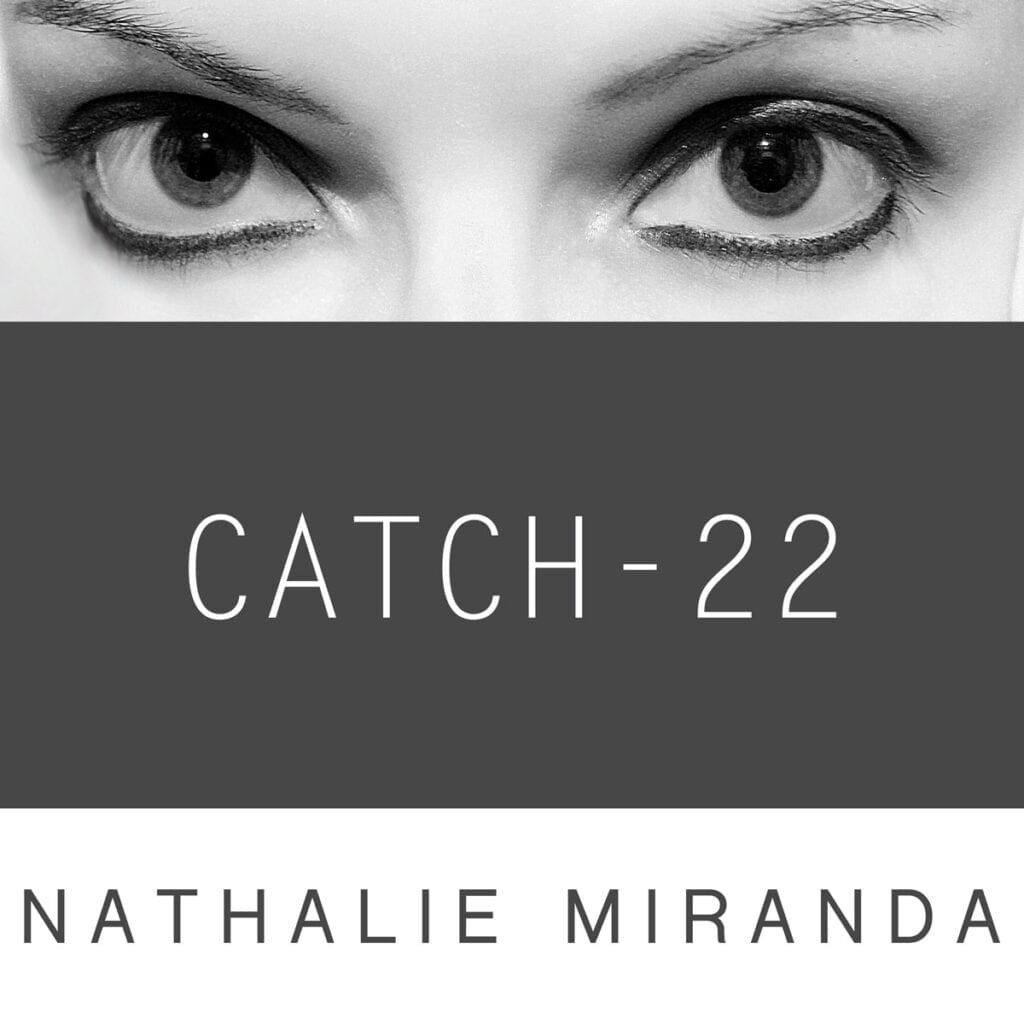 The new single 'Catch-22' is a completely different sound for Nathalie. One that she feels reflects her love of soul and blues music. While still being, without doubt, a relatable, catchy, pop song. Musically, she wanted it to sound huge and quite sparse at the same time.
"I wanted to create a song that reflected my love for Blues and Soul, while still being a pop track. I came up with the melody and the initial lyric one day during lockdown, and it really inspired me to create this retro sound, while still being relatable".

Nathalie Miranda
The theme of the track is about a girl trying to work out whether or not she should listen to her heart or her head; she knows that her boyfriend has hurt her, but she just can't live without him…hence 'Catch-22'. The inspiration for the video came from the Bond movies: simple, dramatic imagery – in reality, made more complicated by a Covid-friendly shoot with social distancing! The dark narrative conveys the frustration that the protagonist is feeling, caught up in her unresolvable situation.
Check out the Video here:
Interview with Nathalie Miranda
We asked Nathalie 10 Questions about her latest single and music career, as well as living in London.
1. How would you describe your music?
I always find this question difficult haha! I'd say it's retro-inspired, urban soul, with loads of grit.
2. Can you tell us more about your new single and what it means to you?
'Catch-22' is really special to me, as I feel like it's connected with more people and on a deeper level. It's about a girl who is in a relationship where the guy has done something (I'll leave that to the listener to decide!) and she knows that she should just leave him, but she knows that she can't live without him. So it's a catch-22!
This song is particularly special to me because I feel like it reflects the retro sound of blues and soul that inspires me. I felt like I could just let loose with the vocal.
3. What inspired you to make a James-Bond style video?
Interesting question! I think it was a combination of the production of Catch-22, the lyrics, and the fact that I was limited to the kind of video I could do due to Covid restrictions, so it had to be fairly minimalistic!
I had this idea of a Bond girl type character getting ready to meet 'the guy', and I wanted the video to be almost like one continuous shot. Making the video black and white gives it an 'angry film noir' kind of vibe which is exactly what I wanted.
4. What has inspired your music career to date?
I've always wanted to make music that matches who I am. I just think that there's no point in trying to be something you're not, and I've tried different styles over the years, but nothing is as genuine as my own sound. I follow examples like Christina Aguilera, who turned it all around with 'Stripped', and my idol, Freddie Mercury, who just wanted to make music that people would connect with. So I guess, yeah, I want to make music that's relatable, and something a bit unusual.
5. Can you tell me a bit more about your personal journey?
I was a really shy kid with very little confidence, and it was always music and singing that made me feel like I belonged. I would sing in my room for hours, and turn the music up really loud so that my parents wouldn't be able to hear!
The first time I ever sang in public was on holiday one year at the karaoke night in the hotel we were staying at. I decided that if I didn't do it now, I'd never have the courage to do it. So I got up, turned my back to the audience and sang 'Hopelessly Devoted to You' from Grease. My parents were like 'ok we didn't know you could sing!'. I mean I look back on it now and think, uhh, I'd sing it so differently now and things like that, but it's part of my journey and I'm proud of my 15-year-old shy self for taking that step!
After that, I started taking part in local competitions and performing for the local Greek community at charity events and things like that. But I never even had a singing lesson until I was around 17, so it took me a long time to discover my sound, and to develop certain techniques. And having no contacts in the industry, everything I ever did was through my own determination.
And that's still true today! Everything is self-funded, videos are made at home, I record at home. The life of an independent artist!
6. What has been the highlight of your music career to date?
I'd say releasing my own music. I've released 5 singles to date. And also, I performed backing vocals for the band 'James' on the 'Later…with Jools' show back in 2018. That was pretty cool and definitely a highlight!
7. How has this year been for you and life under lockdown?
2020 has been WEIRD. Musicians have had all their gigs taken away from them and it's truly bizarre. I miss being on stage and seeing my musician friends so much. I've done alot of live streaming through social media since lockdown started, and it's great to be able to reach so many people, but there really is nothing like that real, human connection with an audience and your band mates on stage.
Good things to come out of lockdown have been that I had the time learn the guitar, work on things like vocal riffs and general vocal fitness, collaborations with other musicians internationally, and of course, I wrote and recorded 'Catch-22'. So there are some positives at least!
8. You grew up in London – what are your favourite things about living in the city?
I am a massive history geek! Growing up, my dad would take me to a different museum or historical site every Sunday, and now I'm just a big kid because I still love doing that! I have an obsession with the Tudor period so I'm definitely in the right city!
And I also love Christmas in London. I wouldn't be anywhere else at that time of year.
9. What is your top tip for living your best life?
Oooh interesting! I'd say to surround yourself with positive people, believe in yourself, and never give up on your dreams, whatever they are.
10. What are your ambitions and plans for the future?
I'd like to keep growing as an artist and slowly spread the 'Nathalie Miranda' sound around the world 🙂 But in all honesty, I'd just like to be the best artist that I can be, and make music that people want to hear. I plan to release at least 2-3 songs a year also