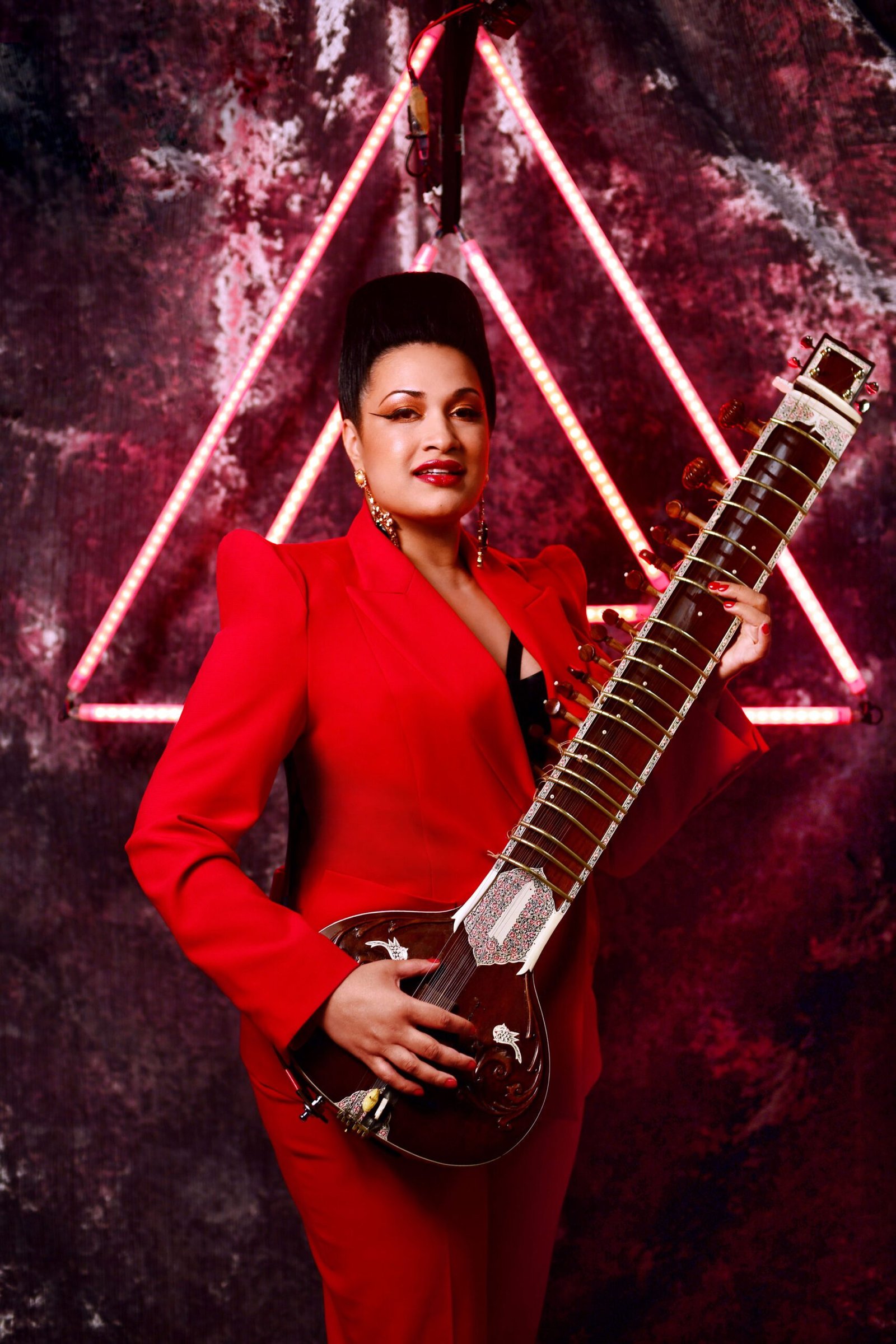 Bishi returns with her third studio album 'Let My Country Awake' featuring the single 'Language is an Ocean'.
'Let My Country Awake' is the third studio album by BISHI, visionary London musician, producer and founder of WITCiH. The album is due to be released on her own label Gryphon Records on CD and all major streaming platforms on 15th October 2021.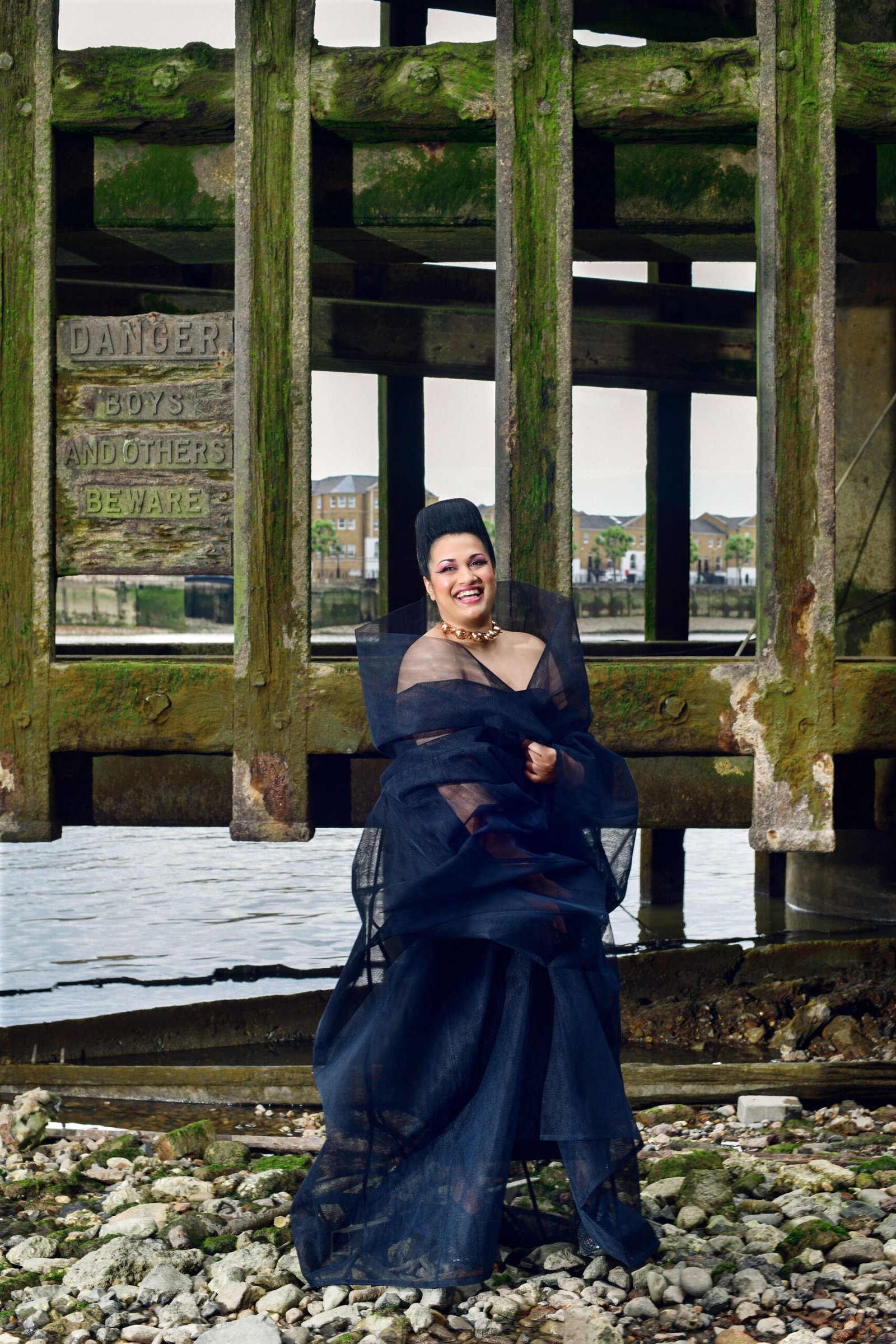 Part- inspired by groundbreaking essay collection, 'The Good Immigrant' and Tagore's Nobel winning poem exploring borderless identity, the album features revolutionary use of her trademark electric sitar and four-octave vocal range. Originally commissioned by National Sawdust, in Brooklyn, it's co-produced by Bishi and Jeff Cook. The album features sampled interviews from Nikesh Shukla, Salena Godden and Darren Chetty. The album's themes focus on dual identities, anti-racism and a call to find empathy in a divided world.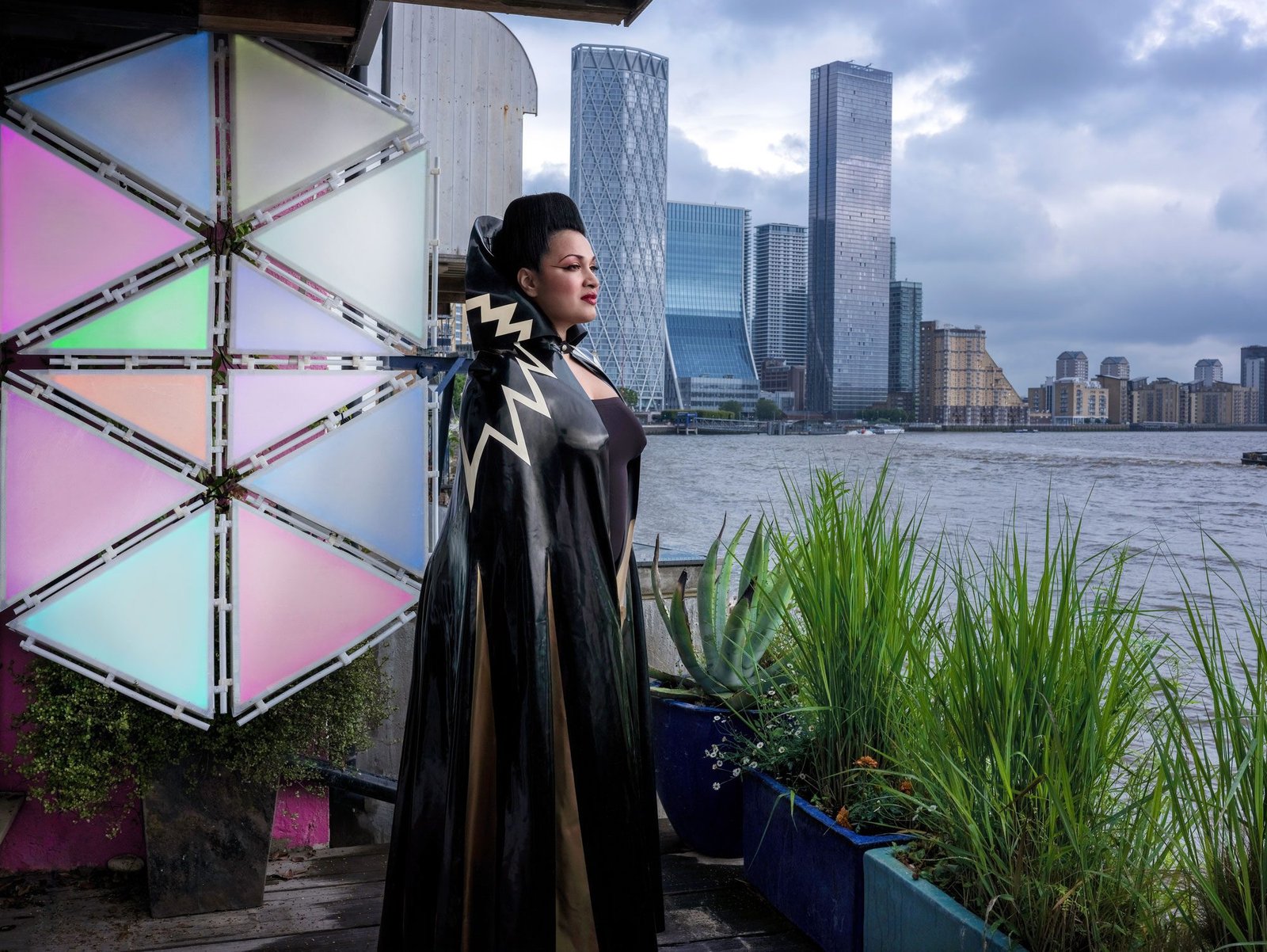 Bishi is born in London of Bengali heritage
BISHI is a singer, electronic rock-sitarist, composer, producer, and performer born in London of Bengali heritage. One of the most iconic London born musicians & multi-instrumentalists, she has been trained in both Hindustani and Western Classical styles. Studying the sitar under Gaurav Mazumdar, a senior disciple of Ravi Shankar. During the album's recording, she trained on voice retreat with Meredith Monk, a titan of the New York avant-garde.
BISHI is celebrated for the use of groundbreaking technology in her performances: from interactive bodysuits, controlling sound & vision live onstage to live coded audiovisual environments.
BISHI started off as an alt-folk artist with The London Symphony Orchestra performing her debut album, has recently released music produced by Tony Visconti, and recorded with the likes of Sean Ono Lennon and Jarvis Cocker.
She's performed on the Southbank for Yoko Ono's Meltdown, and with the City of London Sinfonia as a soloist on Jonny Greenwood's 'Water.' As an indie artist, fiercely charging her own path, she has released two solo albums on her own label, Gryphon Records, to much critical acclaim.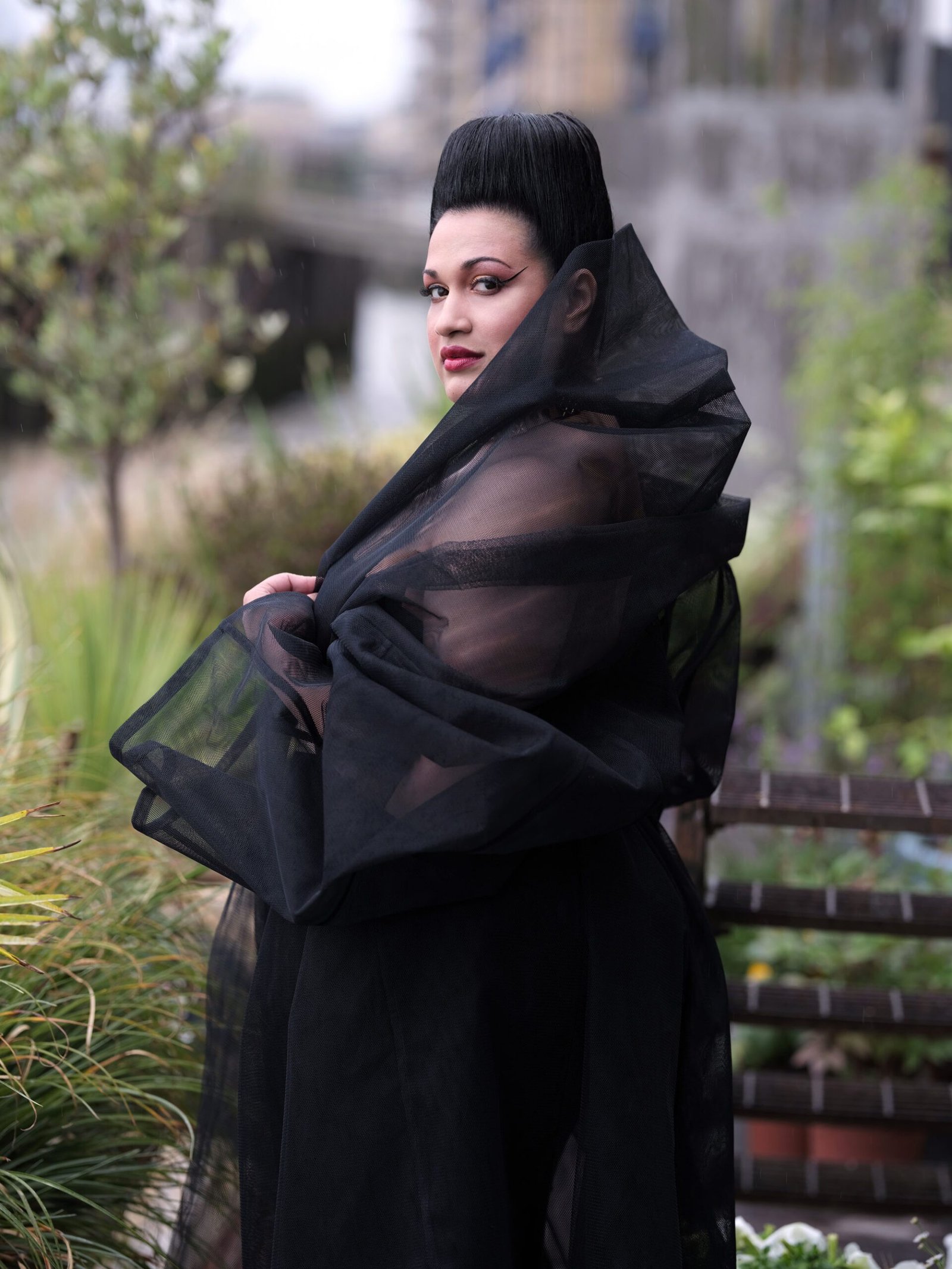 Bishi founded WITCiH & podcast 'Creative Women in Tech'
In 2016, BISHI founded WITCiH, the women in technology creative industries hub, a platform to elevate the voices of womxn and non-binary practitioners in tech, and in 2020 she launched the podcast 'Creative Women in Tech,' starring Hannah Peel & Anna Meredith.
In 2021, she curated the festival WITCiH Digital, which was headlined by Laurie Anderson. A passionate advocate for equality and inclusion, BISHI is an ambassador for The FAC, Imogen Heap's Creative Passport and on the board of the F List For Music. During lockdown she has been working closely with mixed reality company Volta hosted masterclasses for tech giants such as Ableton, Delic, Cisco as well as joining the LANDR Pro network and producing their first electric sitar soundpack.
Full Album listing
Language Is An Ocean feat. Nikesh Shukla
Passport is a Palace
Teardrops
Shade feat. Salena Godden
Good Immigrant feat. Darren Chetty
Let my Country Awake
Full Live Tour dates across the UK and EU
13 Oct Album launch, The Purcell Room, Southbank Centre, London
3 Nov Anoushka Shankar's Reflektor Festival, Hamburg
11-14 Nov Ludic Rooms, Coventry City of Culture
17 Nov support slot for Garbage, Bournemouth NEC
30 Nov Spitalfields Music, London
2 & 3 Dec Music Mark Festival, Brighton
1. You have just released your single 'Language Is An Ocean'. Can you tell us more about it?
I'm fascinated by code-switching and how language evolves through generations. As a daughter of Bengali immigrants, I was especially moved by a collection of essays called 'The Good Immigrant,' edited by Nikesh Shukla. I sampled him from an interview I conducted with him.
2. How would you describe your music to someone?
Indie Electronica, with contemporary-classical and Indian roots.
3. Can you tell us about your music background and who influenced you?
I was classically trained in voice, piano and the Sitar. I taught myself bass, synths and programming. I'm into artists who build worlds, such as David Bowie, Laurie Anderson and David Byrne, to Missy Elliott, St. Vincent and FKA Twigs.
4. You're not only a musician but also a podcaster and advocate for women in tech. How do you combine these roles?
I'm a musician and founder of WITCiH, the women in technology creative industries hub, a platform to elevate the voices of women in tech. This year I curated a digital festival, headlined by Laurie Anderson. Building my own collective stemmed equally from a passion for creativity, other artists and the pragmatism of surviving an industry in which I am a minority. You have to create your own path as an underrepresented artist.
5. What have you been focussing on during lockdown?
Staying creative, connected and caring to those in my life who needed it most. I released a new single produced by Tony Visconti made LANDR's first-ever Sitar sample pack and started collaborating with a mixed reality company, Volta, with whom I live-streamed performances in VR.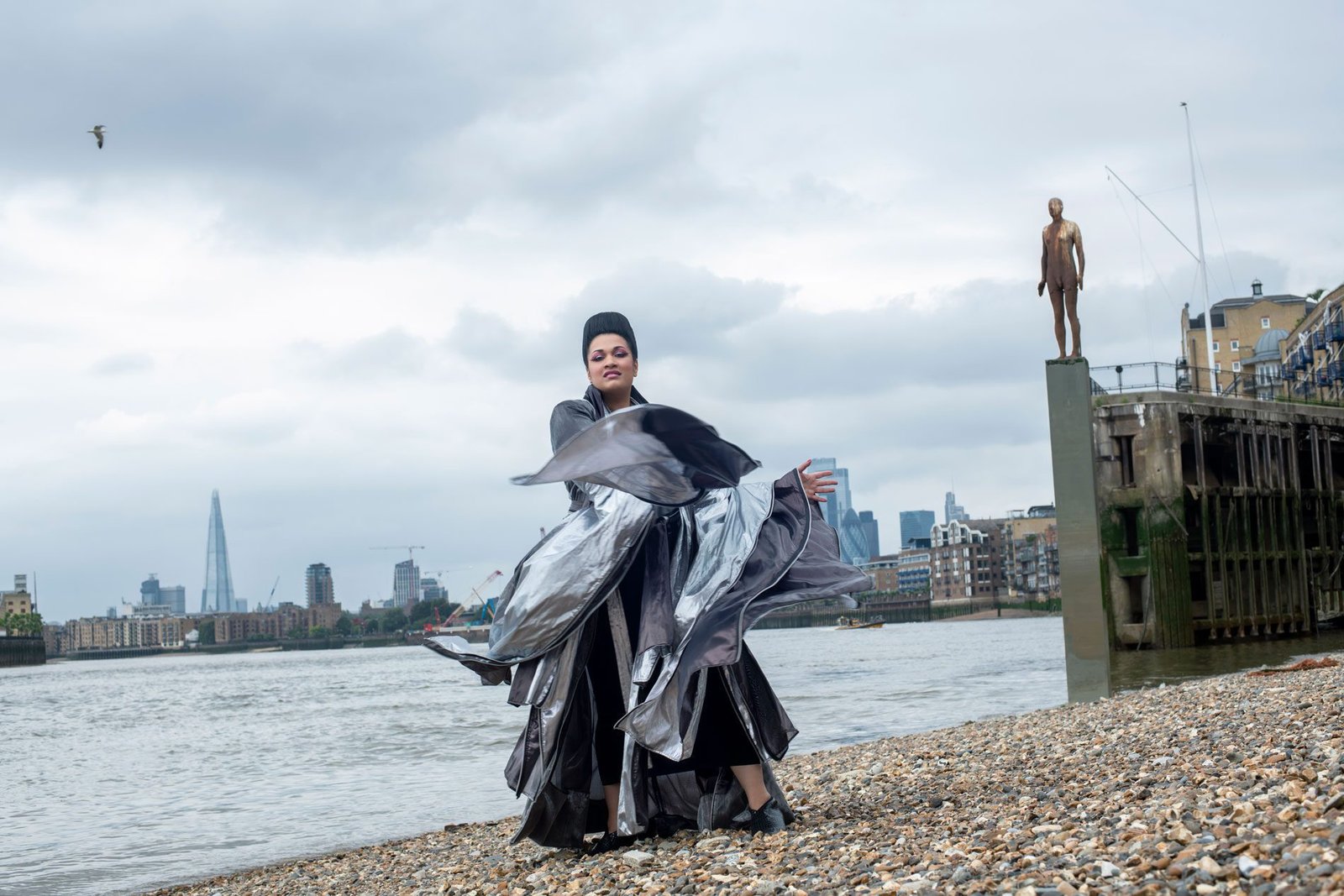 6. You are based in London – what are your favourite things about the city?
Live Music, galleries and green spaces. During the pandemic, I could only enjoy the latter.
7. As we are coming out of lockdown, what are the 3 things you can't wait to do again?
Travel, see more friends IRL, dancing more.
8. What is your top tip for living your best life?
Making sure I reflect; long walks, reading and keeping social media apps on my phone.
9. What are your plans and ambitions for the future?
Releasing my new composition, I'm currently writing for the Coventry City of Culture and my new choral piece, commissioned by Spitalfields music and recording another series of my WITCiH Podcast.
Follow Bishi:
www.bishi.co.uk | Facebook | Instagram