Stephen Bailey is comedian extraordinaire, TV presenter & writer.
I have been friends with Stephen for many years and have even had the pleasure of sharing a house with him in Belsize Towers.
So I invited him to be a guest contributor of Broke Girl in the City and he said 'yes!'
Every girl needs a gay BFF.
xx
Stephen & friends
Stephen & Katherine

Ryan
Stephen has just come back from a summer performing his winning set 'Nation's Sweetheart' at the Edinburgh Fringe comedy festival. He has also supported Katherine Ryan on tour.
"HE'S AN ARCH-BITCH WITH A WINNING SMILE, EVERYONE'S FAVOURITE GAY BEST FRIEND. BAILEY'S CONFIDENT, FUNNY, AND SUITABLY RUDE" – THE REVIEWS HUB
Stephen & Whitmore
Best buddies since meeting at MTV, Laura Whitmore remains one of Stephen's BFFs (aw).
Stephen has worked both night and day, in TV production as well as doing stand-up comedy at night before making this his full-time profession. I remember too well sharing a house with him in Belsize Park when the Wright Stuff's Xmas party ended up back at ours, where a certain presenter mistook his wardrobe for the bathroom.
"Presenters get paid to read – yes please!"
Stephen's Top Tips for living in the city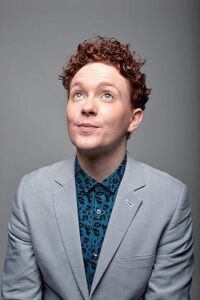 "Go out. Make Friends, Enjoy the City"
"There is always something to do"
"You don't always have to drink. That's £80 off your bill"
"Kebab shops are not the place to find true love"
"Find a Weatherspoons"
"I'M FROM MANCHESTER ORIGINALLY. THE BEST BIT ABOUT MANCHESTER IS THAT MY MUM'S THERE. THE CHIPS AND GRAVY. IT'S ALSO WAY CHEAPER THAN LONDON"
Gigs
Stephen can be found in a city near you. Check his gigs schedule on stephencomedy.co.uk/gigs.
I am usually the one at the back, saving a wine for the man himself.
Stephen's Creds
Channel 5's Celebrity Big Brother's Bit on the Side, Eamonn Holmes' It's Not Me, It's You and ITV 2's Safeword & upcoming show Codswallop with Rylan, as well as countless talking head shows including The Funny Thing About…, The Ultimate Power Couples of 2016, When TV Goes Wrong and When Magic Goes Wrong. He's done the studio warm-up for Loose Women, Let's Lunch with Gino and Mel, Vicious (ITV) and Dara O'Briain's Go 8-Bit (coming soon to Dave). As a writer, Stephen regularly contributes articles to Attitude and the Huff Post. We love the fact Stephen is also a supporter of LGBT rights, contributing to Attitude Magazine and the Huffington Post.