The Brixton Courtyard opens Spring Season with the likes of Krafty Kuts, Or:La, Joe Goddard, Crazy P, Tristan Da Cunha and Channel One
Our social lives are starting to get back today, Monday, April 12th. The Brixton Courtyard at Brixton Jamm today unveils a season of special headliners and hosts including Horse Meat Disco, Joe Goddard, Crazy P, Or:La, Tristan da Cunha b2b Voigtmann, Channel One, Krafty Kuts, Freestylers
and Plump DJs amongst many more. I lived in Brixton for 5 years and love it! It's at the heart of South London at the end of the Victoria line, and is always buzzing with life!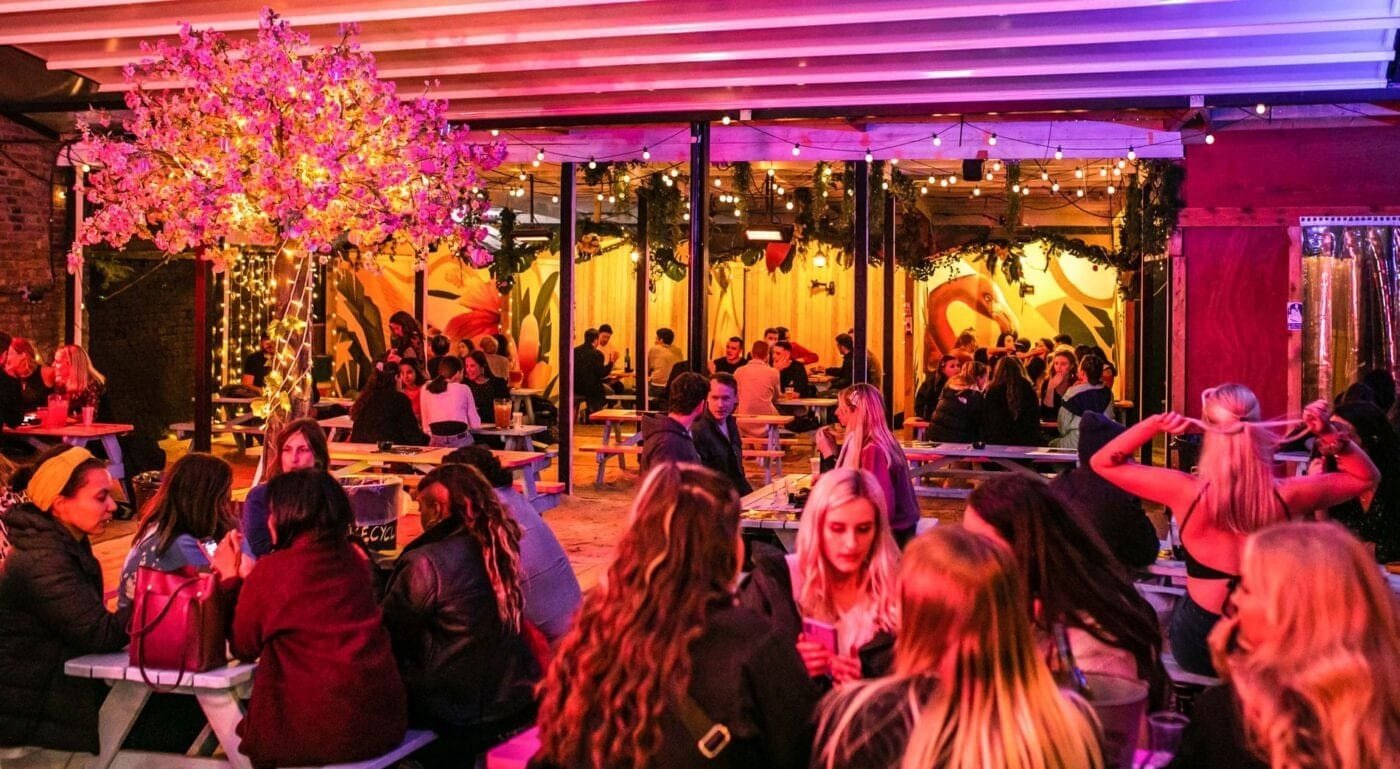 The Brixton Courtyard is one of London's best-loved outdoor spaces.
Perfectly placed to post socially distanced socials on its unique beach, courtyard and terraced spaces. The venue hosted several months of safe consecutive events last year and remains fully Covid-secure. Fantastically themed and decorated all-weather tables and private booths are ready and waiting to host you and your crew this spring and beyond.
Each and every occasion will be a friendly and welcoming mix of live music and mouth-watering food
including triple-dipped fried chicken, all manner of hot wings and big jerk inspired eats from street food
traders Only Jerkin' with BBQs, craft beer, cocktails and plenty more to keep you well fuelled.

The exciting new season kicks off with a much anticipated 'Reopening Social' on Monday, April 12th.
Followed by the weekly Open Decks night every Wednesday when anyone can rock up and spin. Then
each Thursday will see Jamm's House serving up their in-house party night offering a wide range of
sounds and styles.
Special weekend bottomless brunches kick off on Sunday 18th April
From there the parties come thick and fast with a series of special weekend bottomless brunches aptly
named Brunch on the Beach and Brunch in the Courtyard, which offer a wealth of delicious eats
courtesy of Only Jerkin's new brunch menu. The brunches kick off on Sunday 18th April with music from
Capital Weekender radio host Sarah Story and More Time Records co-founder and Glastonbury and
Boiler Room regular Ahadadream. Think big tunes and big fun!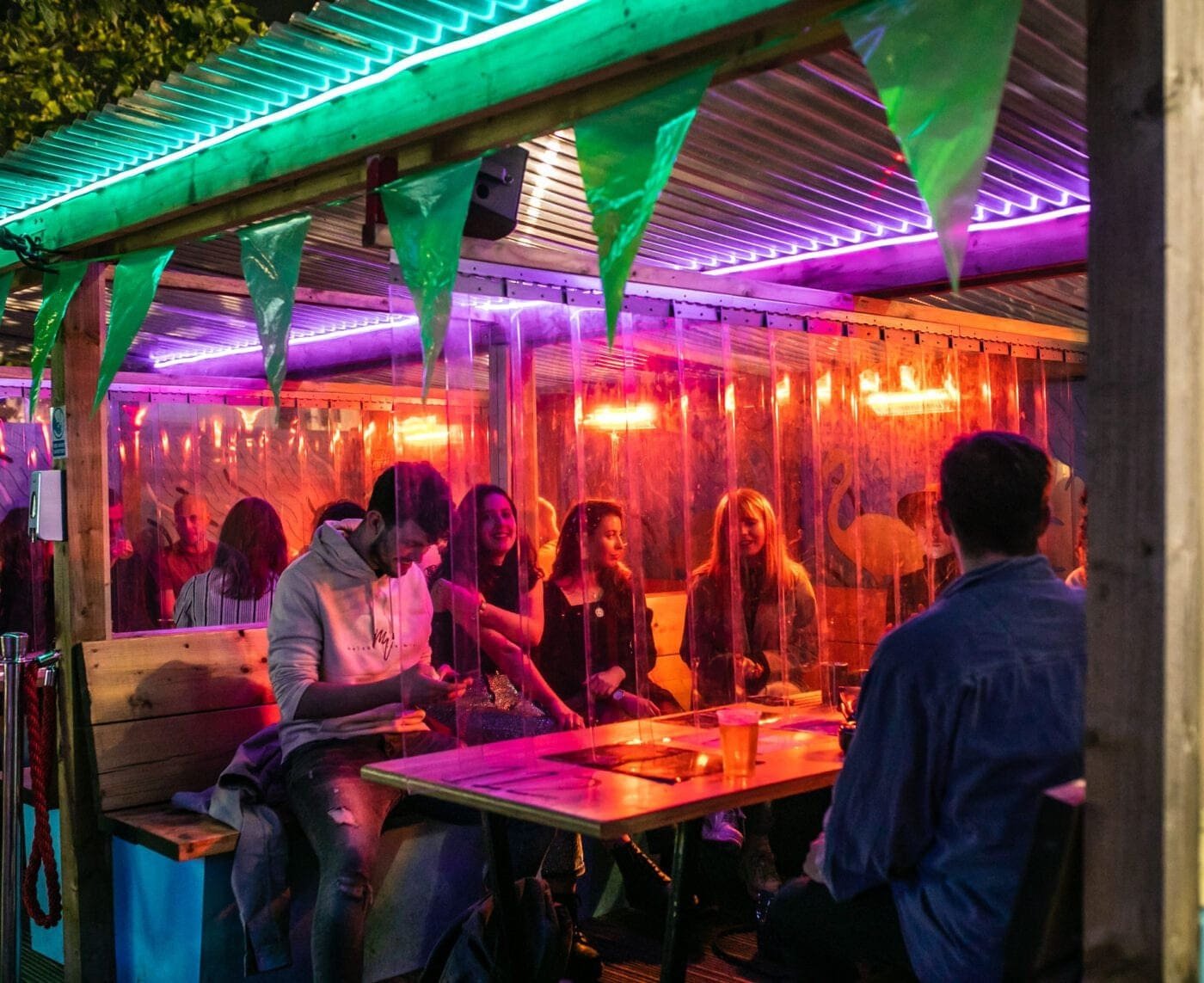 Sunday, April 25th sees Hot Chip and The 2 Bears' Joe Goddard headline Shut The Front Door with his hugely versatile mix of house and disco sounds.
A true UK music legend, Goddard is a songwriter, producer, DJ and Grammy-nominated remixer who never fails to bring real energy and optimism every time he plays. The same day, Mi-Soul Radio will bring key hosts Booker T, Mickey See and Darren Giles for a master class in all things funk, soul, house, garage and reggae.
Friday, May 7th is for lovers of underground house and techno. With two favourites: Dungeon Meat and Back to Basics man Tristan da Cunha and master minimalist Voigtmann go back to back and are sure to cook up heady house grooves from the vanguard.
A week later on Friday, May 14th, Shut The Front Door welcomes the most colourful DJ outfit in the country with Horse Meat Disco bringing the most positive and party-starting vibrations imaginable.
While Saturday, May 15th is all about high impact breakbeats and big bass from titans of the scene Krafty Kuts, Freestylers and Plump DJs.

A second Shut The Front Door party is on Friday, May 21st
When much loved cosmic funksters and dazzling disco dons Crazy P bring their slick, loved-up and starry-eyed sounds next to UK disco and funk duo Ekkah.
Saturday, May 22nd is another heady one with cult underground party
Percolate bringing the slick, widescreen house, techno and electro selections of the ever-adventurous Or:La to the Courtyard. The rest of May sees TBC presents Oliver Smith & Genix and the JVNC Collective on the 28th and legendary dub outfit Channel One put the basins through their paces on the 30th.
This carefully curated season finally gives music lovers and party people something to look forward to, all with subversive experiences and Covid-security in mind. It's selling out quick so head to thebrixtoncourtyard.co.uk for bookings.

Full Listings:

Monday 12th April – Reopening social
Every Wednesday – Open Decks
Every Thursday – Jamm's House
Sunday 18th April – Brunch on the Beach & Brunch in the Courtyard w/ Sarah Story & Ahadadream
Sunday 25th April – Shut The Front Door w/ Joe Goddard
Sunday 25th April – Mi-Soul Radio w/ Booker T, Mickey See, Darren Giles
Friday 7th May – TBC presents Tristan da Cunha b2b Voigtmann
Friday 14th May – Shut The Front Door w/ Horse Meat Disco
Saturday 15th May – King of the Beat w/ Krafty Kuts, Freestylers, Plump DJs
Friday 21st May – Shut The Front Door w/ Crazy P, Ekkah
Saturday 22nd May – Percolate w/ Or:la
Friday 28th May – TBC presents Oliver Smith & Genix, JVNC Collective
Sunday 30th May – Channel One

The Brixton Courtyard at Brixton Jamm
261 Brixton Road, Brixton, London. SW9 6LH
https://thebrixtoncourtyard.co.uk/ || http://www.brixtonjamm.org/
Nearest Tube: Brixton (Victoria Line).
Health and Safety Information.