UK Money Bloggers – Reverse Advent Calendar 2019 #FoodBankAdvent
Last year I took part in the UK Money Blogger's group Christmas Reverse Advent Calendar campaign. I always think this time of year is difficult for people for many reasons. Christmas is an even more poignant and demanding time on the finances. It's a struggle. With many people being made redundant, let go, job-hunting, or simply just trying to keep up with the demands of everyday living – money is exceptionally tight.
I am a firm believer in giving back. A record 1.6m food bank parcels were given to people in the past year according to the Trussell Trust, which shows I am not alone. If everyone can approve the lives of the people around them. Then we can improve the world, one good deed at a time.
What is a reverse advent calendar?
With every advent calendar, you open a door in the countdown to Christmas and you will receive a present. So, with a reverse advent calendar, you simply add to it – food, toiletries, gifts. If you do this for 25 days, this activity will then mirror a traditional festive advent calendar. You can donate your reverse advent calendar to any food banks or charity nearby.
What goes in a food bank advent calendar?
Many people will suggest ideas on what to add to a food bank calendar. I personally would recommend a mixture of every day foods, but which are also nutritious. I intend to add a few festive snacks, but it's easy to eat junk food which is cheap. What I feel is also important to include are foods, which add nutritional value.
Cereal
Soup
Pasta
Rice
Tinned tomatoes/ pasta sauce
Lentils, beans and pulses
Tinned meat
Tinned vegetables
Tea/coffee
Tinned fruit
Biscuits
UHT milk
Fruit juice
Many food banks also provide essential non-food items such as toiletries and hygiene products.
If you're organising a collection for your local food bank, please check with them first to see which items they are currently in need of.
Where to find your local food bank?
The Trussell Trust offers a search tool to be able to find your local foodbank. Last year I took my food bank reverse advent calendar to Camden. This year I shall be taking one to the Brixton and Norwood Foodbank.
Why do we need food banks?
Many of us are only one pay packet from being completely broke. We often struggle to get from pay day to pay day. However, Christmas has the added pressure for many families. Food budgets increase, heating is on during the day meaning increased bills, and that's before even factoring in the cost of presents.
Christmas is a difficult time for many people, even in full-time employment. The pressure felt by everyone to pay for presents is exacerbated by the need to travel home costing more money, which all means Christmas is an incredibly expensive time for anyone.
Also, many people have to give up their jobs to care for a loved one or are going through a stressful life change. Redundancy and job losses are still commonplace. You never know what life is going to throw at you.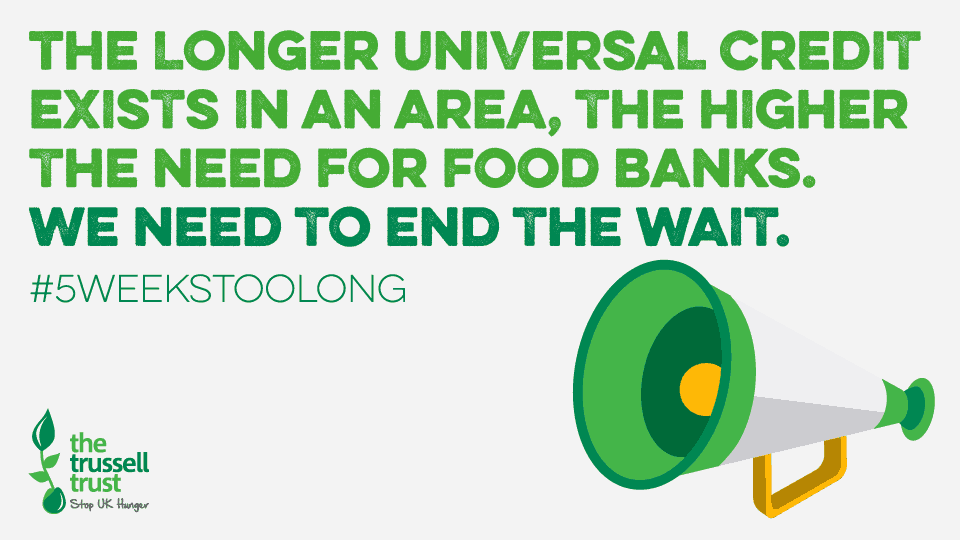 Universal Credit – #5weekstoolong
I have recently left my workplace and signed on to Universal Credit. Once a claim has been made they will not pay anything for 4-5 weeks. It is quite a laborious process and there are sanctions on payments for a whole variety of reasons. My claim has just been closed due to the fact that I wasn't entitled to anything during my first month after leaving my workplace. Instead of keeping my claim open, I have to make a new claim going through all of this yet again.
The number of companies targeting people who have started to claim Universal Credit, have also been on the rise. These people will offer to give you advance payments. However what they do is ask for your details to access your account (never give away your details), make the claim themselves for an advance loan, give recipients a share of this money leaving them to pay this back in full.
"In areas where Universal Credit has been rolled out for at least a year, food banks in the Trussell Trust's network have seen a 30% increase in demand".
UK Money Bloggers Campaign
Sara Williams a top money blogger who runs Debt Camel, has written this great post for the UK Money Bloggers group to provide more details about the #FoodBankAdvent campaign.
So after reading this article, why not start your own Reverse Food Bank Advent Calendar? Ring your local foodbank to see what they are short of. in terms of supplies. Give back and pay it forward this Christmas.