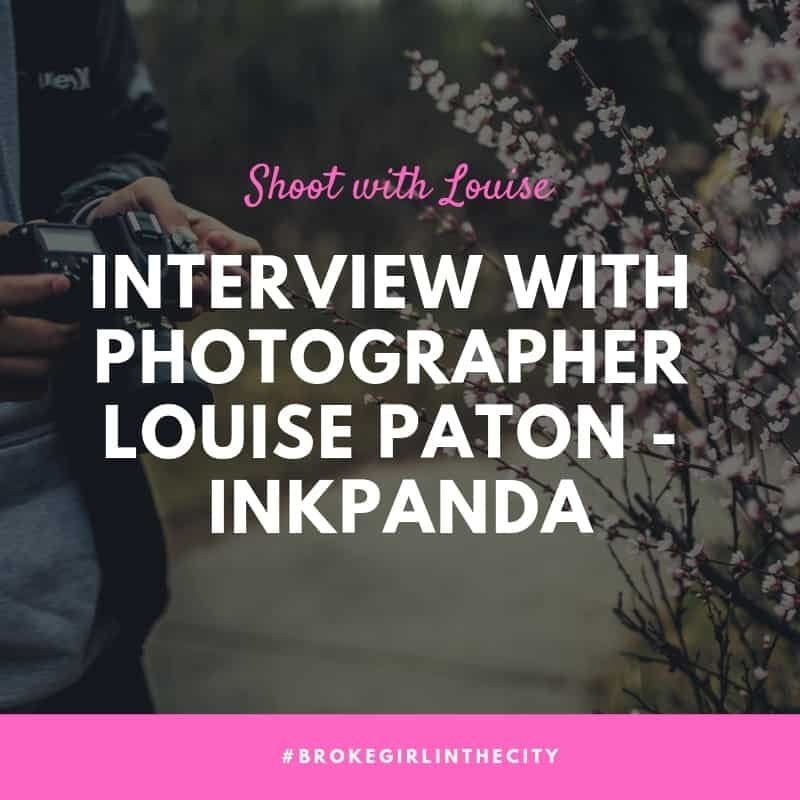 Louise started inkpanda 5 years ago as a one-woman show. Now, along with a BA in Commercial Photography from Bournemouth Arts University, she divides her time between freelance projects, studio bookings, and her personal favourite – running photography workshops with an added sprinkling of inkpanda magic!
"People are so good at hiding themselves – I just keep shooting until I see what's really there."
Recently I signed up to a Portrait Photography Workshop with Louise who kindly agreed to this interview with me.

Portrait Photography Workshop
I really am so excited about this workshop. Unfortunately, the February workshop has now sold out, but you can sign up for the next one on March 2nd at the National Portrait Gallery.
Suitable for everyone with a DSLR camera and a lens within the 85mm – 50mm range, a photography workshop focussing on all things portraiture.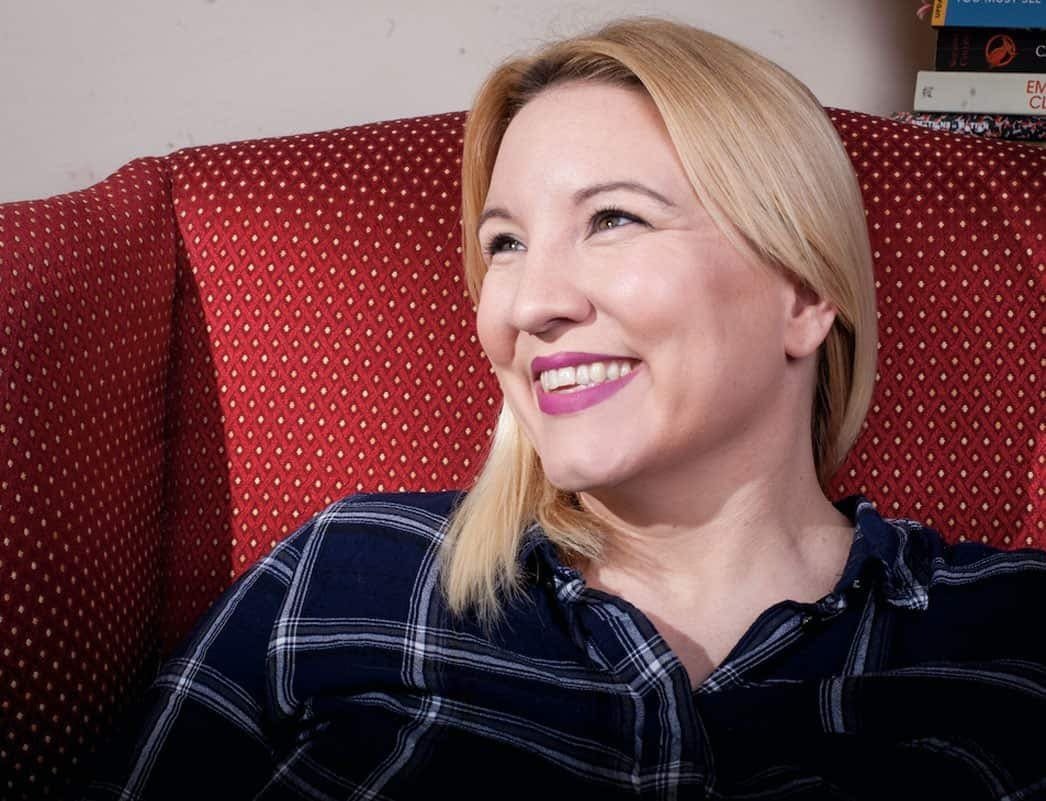 Interview with Louise:
Can you tell me a little about yourself?
I love photography. I love my husband. I love my step-son. I love my cats. I could wax lyrical for hours on those four things!
1. What does photography mean to you? What made you choose to be a photographer?
I always say that I didn't 'find' photography, photography found me.
7 years ago, I was at a bit of a loss as to what my next step was. I had spent most of my twenties travelling and working abroad, which had been amazing of course, but I felt it had reached it's sell-by date. I was ready for something else, but I had no clue what that something else was. It was only by chance one night, wide awake and bored to tears, that I picked up my Dad's camera and took a picture of a fork that was laying on the dining room table, illuminated by a lamp. I was so taken with the picture, that I took another. And another. And another. And from there, life as I knew it took a turn that I would never have predicted in a million years!
2. How would you describe your style of photography?
I have been developing my brand; 'inkpanda' for several years now. It is so pleasing to see it gaining traction and becoming recognisable. I describe that brand, and therefore my style, as visual storytelling. Within that. It's about finding the beauty in the mundane. Bringing truth to the forefront, and using modern technology and equipment to help bring artistic concepts to life.
3. What's your favourite thing to shoot?
Ooof, now there's a question! I love to shoot everything! Even the most mundane photography is more exciting to me than anything else in the world! But if I had to choose, I'd say it's a toss-up between documentary-style shoots that tell the story of an event or experience over several images and working in my studio on high-end product photography. Where every little detail has been considered, the lighting is incredibly specific and finicky, and the post-production is sometimes more involved and time-consuming than the shoot itself. I can happily lose days sitting on my sofa with 'Friends' on in the background. Editing images on my computer until the perfect result has been achieved.
4. Who has influenced your photography the most?
Aside from my tutor Phill, who held my hand through my first three years of study and taught me so much. Some notable photographers who have left a mark on me are; Robert Mapplethorpe, Nadav Kander, Martin Parr, Sally Mann, Gregory Crewdson, Richard Avedon, Karl Taylor, David Bailey, David Loftus, Steve McCurry, Diane Arbus, Dave LaChapelle, Mary-Ellen Mark. My gosh, what amazing teachers they were! I encourage anyone reading this to pick a few of these names and have a look at their work for inspiration, education, or just pure enjoyment.
5. Which cameras do you use for shoots?
I'm a Canon gal through and through! When I first started studying, I didn't have a CLUE what I was doing or what I should be using. All I knew was that I wanted to be doing it. I asked my tutor who recommended the Canon 5d series. So I went and bought a second-hand 5d Mark I, which was a fantastic camera that got me through my degree and my first few gigs. I now use a 5d Mark IV, and I love it. It is an absolute work-horse that helps me take great photographs in any situation or environment.
I don't get too involved in the Canon vs Nikon rivalry, aside from some lighthearted banter, because I think there is a place for all the big manufacturers. Sony, for example, are doing some great work in developing much smaller, lightweight cameras that still pack a huge punch. Personally, I prefer something more hardy and solid, but that is just personal preference. If my tutor had suggested a Nikon all those years ago, that's what I'd be shooting with now!
6. What's your favourite lens and why?
That's a tricky one because different lenses do different things! A 100mm macro, for example, is great for those highly-detailed close-ups. An 85mm f/1.2 is a truly stunning portraiture lens. The 70-200mm is an absolute beast of a lens. It's very big and heavy, but it takes the most gorgeous telephoto images. But if I had to choose just one, it would be my 24-70mm f/2.8. It's both a wide-angle and a telephoto, with a lovely large aperture. Meaning it's great in low-light and allows me plenty of creative control. It's a superb all-rounder in my opinion.
7. In your opinion, what makes a good photo stand out from the crowd?
For me, it's a combination of two things. Firstly, what is known as 'the decisive moment'; the moment when 'the visual and psychological elements of people in a real-life scene briefly come together in perfect resonance to express the essence of that situation.'
And secondly, the more technical elements such as exposure, composition and framing. Get those two things nailed, and you're onto a winner in my eyes.
8. What is the most rewarding part of being a photographer to you?
Every single gig is different – I am never bored! Teaching people how to get the most out of their cameras, and watching their progress, and their passion grows – it's a wonderful feeling. I also love the fact that I learn so much about so many different things, that I might not ordinarily have explored. Drag Queens. Pheasant Shooting. Architecture. Food waste. Whiskey. Foreign culture. Bicycles. I'm constantly adding to my bag of general knowledge, which is really awesome.
9. Can you tell us more about your workshops?
I currently have three workshops in the calendar. A portrait workshop in central London, starting at the National Portrait Gallery on the 2nd March. A light-painting evening in Cuckfield, Haywards-Heath on the 1st March, and a Springtime nature photography workshop in Bushy Park, Hampton on the 9th March.
My workshops are there to help you take your photography to the next level. No matter what level you're on, to begin with. I'll help you with the technical stuff and show you how to best use your equipment, but I'll also help get you inspired creatively, and give you the opportunity to figure out your own style, and your own voice.
10. If you could give other girls tips, what would they be?
Do not compare yourselves to anyone else. Go at your own pace, on your own path. If you're committed to improving your photography skills, there will be times when you will want to hurl your camera at a wall. You'll think you're an idiot and that it's too hard and it's not worth it and actually you hate photography so forget it! GOOD!! KEEP GOING!!! That just means it's working! Push through the frustration and you'll be so, so glad you did.

Ways to follow Louise…