Luxurious Malki's Dead Sea range
The Dead Sea is world-famous for its mineral-rich, skin healing waters; with royal fans ranging from the queen of Sheba to Cleopatra. For centuries thousands have visited in order to bathe in this unique place and enjoy the countless beauty benefits.
Malki's Dead Sea range has harnessed these dead sea potent minerals and created a fantastic range that can access all areas to deliver a much-needed beauty boost.
There are three zones the range focusses on – hair, face and body.
Perfect for the face
By simply using Malki's Natural mineral Shampoo and Conditioner you can put all the bounce back into even the most unmanageable hair.
The natural shampoo contains magnesium to revitalize, calcium to nourish and sodium to invigorate.
Vegetable and olive oils cleanse away impurities and add shine the natural way without nasty chemicals like Sodium Lauryl Sulfate. This ultra-kind formula also means it's tough on dirt but soft on sensitive scalps.
Finish off with a liberal helping of Natural Mineral Conditioner. The reason why it's so effective is due to what it doesn't contain rather than what it does. There are NO chemicals to irritate the scalp and coat the hair shaft, no artificial thickeners that dull the hair and leave build-up. Just a blend of three natural oils – olive, coconut and palm.
It simply softens, detangles and hydrates without any greasy residue. Just like a moisturizer on dry skin, hungry hair will just literally soak it up. However, the addition of Dead Sea minerals, that get to work feeding the hair and scalp with goodness, add an extra energizing lift to tired tresses.
Dead Sea Natural Mineral shampoo £8.29 300ml bottle | Dead Sea Natural Mineral Conditioner £8.29 300ml bottle
Perfect for the face
Exposed to the elements, covered in make-up and hardly given chance to recover before the next onslaught of abuse. We are very hard on our face. Yet no matter how badly we abuse our skin, we still expect it to look flawless every day.
Malki's Natural Mineral Facial Wash, £8.79, is a great way to feed your face without putting on any calories. It has a dual action: herbs like nettle, sage and camomile dissolve grease, unblock pores and flush away toxins, which clears the way for minerals to refresh and invigorate washed-out complexions – ideal for sensitive skins.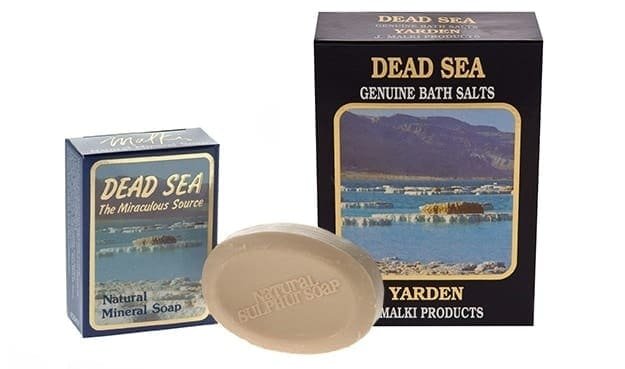 Perfect for the body
If you are guilty of serious bodily neglect, then it is time to atone for your winter sins if you want to be body beautiful this summer.
Malki's natural mineral products use hard working minerals to make light work of problem areas.
Malki's Dead Sea Scrub with nourishing frankincense oil, £7.79, banishes dull dry skin, leaving you silky and soft. Simply swirl the pot to blend the ingredients and scoop up a handful. Then beginning at the tips of your toes, start to massage. The grains gently give dead skin cells the brush–off and the massaging action helps smooth the surface and flush away toxin build-up.
For areas that require more attention, Black Mud Mask Soap, £3.75, refreshes those body parts others can't reach. A blend of vegetable oils and the Dead Sea mud tackles rough skin on elbows, knees and feet whilst providing a surge of skin refreshing minerals that leave bodies looking great.
Like any organ of the body, the skin requires regular feeding, and this means a good moisturizer is absolutely essential. Natural Mineral Body Lotion, £7.99 is a non-greasy lotion that replaces lost hydration, leaving you much smoother. Marvellous minerals like potassium and chloride replenish nutrients and improve skin elasticity.
Two handfuls of Dead Sea aromatherapy bath salts, £7.89, added to your bath will transform ordinary tap water into your own private Dead Sea. Frankincense, the most precious of oils, was carried for miles as a gift by the three wise men. These Dead Sea salts are drenched with this warming oil that helps calm mind, soothe the body and rejuvenate skin. Also infused with dried rose petals, this salty blend will transform your bath into a spa-like haven.
The Malki Dead Sea bath care range is now available nationwide.
Dead Sea full range:
Dead Sea Aromatherapy Bath Salts with Frankincense oil and Rose petals, £6.85 per 500ml | Dead Sea Natural Mineral Shower Cream £7.79 per 250ml | Dead Sea Natural Mineral Facial Wash £8.79 per 250ml | Dead Sea Natural Mineral Body Lotion £7.99 per 250ml | Black mud mask soap £3.75 a bar | Dead Sea mineral soap £3.75 a bar | Dead Sea sulphur soap £3.75 a bar | Dead Sea body scrub with frankincense oil £7.79 per 300ml | Dead Sea bath salts £7.89 per 1kg box | Dead Sea Natural Mineral shampoo £8.29 300ml bottle | Dead Sea Natural Mineral Conditioner £8.29 300ml bottle
Disclaimer: Some items were gifted for me to try out for this article. #gifted
The article contains Amazon affiliate links. Should you buy any of these items using my blogging links, I might earn a referral fee.
Incredible for the skin
I was kindly sent a box of Malki beauty products before Christmas. The soaps are just incredible on the skin. I indulged in the mineral salt baths over Christmas, which are good for your skin and overall health. The range is really great for sensitive skin, which I have. Not only that, this luxurious range is at a price I can afford!
Disclosure: Amazon Affiliate links below. I have tried all of these products for the purpose of this review.