Bussey Rooftop reopens on 4th July
Spend summer on the skyline with the return of a bigger, brighter Bussey Rooftop Bar at Bussey Building, Peckham.

Peckham's rooftop escape is back on the 4th of July as Bussey Rooftop Bar reopens its doors.

Enjoy cocktails and pizza against panoramic views of the London skyline.

Queue-free vibes with advance booking and waiter service via online ordering
Bussey Rooftop Bar has announced that its doors are reopening from 4th July. Advance bookings are open and more than doubled in size, with even more seating.

Bussey Rooftop Bar is one of my fave places.
A rooftop oasis tucked high above the streets of Peckham and boasting one of London's best views. Bussey Rooftop Bar is opening its doors for sundowners, pizza and cocktails!
I absolutely love this bar, which I have written about previously, when we are all looking for a rooftop bar this summer in South London, especially during these times. I can't recommend this bar enough.
When is it open?
Grab your mates and get ready to embrace the summer. Bussey Rooftop Bar is going to be open seven days a week.
On Monday to Friday, it's open from 17:00 – 22:30, making it the perfect escape for after-work socials.
At weekends, the bar opens at midday. Last orders are at 22.30 – afternoon cocktail, pre or post-dinner drink – Bussey Rooftop Bar has you covered.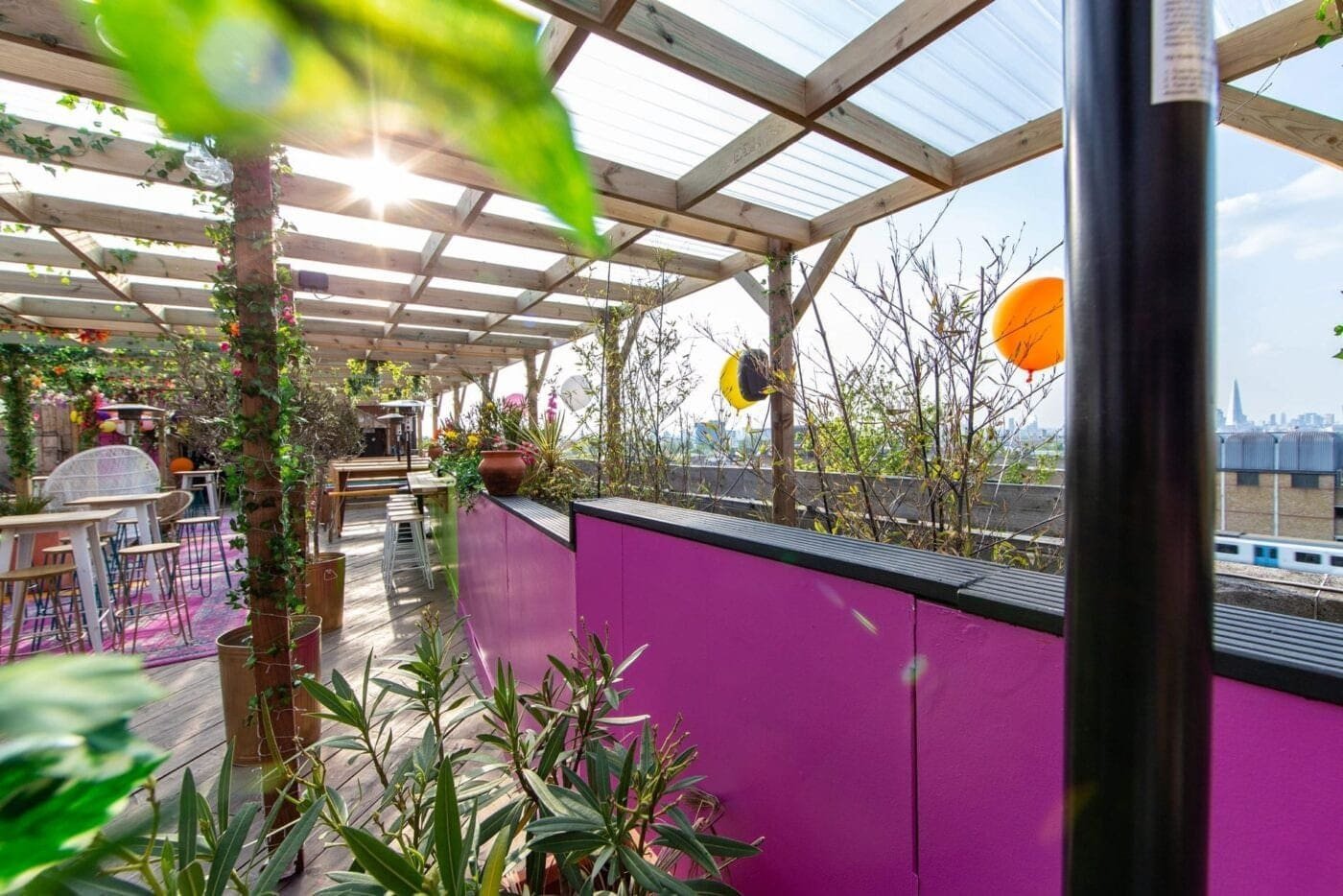 Order an Aperol Spritz through an app.
While picnics and warm wine in the park have definitely got us through the last few weeks of lockdown, Bussey Rooftop Bar will be the much-needed change of scenery we all need. Serving a delicious menu of wine, beer and cocktails. You won't need to worry about queuing at the bar to get yourself a chilled drink. There is no bar service; all ordering is done via an app. Your drinks are brought directly to your table once ordered.
Sip a cocktail such as a refreshing Aperol Spritz or Strawberry Daiquiri. While making up for lost time with friends over delicious Italian pizza from Share a Slice. Serving a taste of Napoli, the choice is yours. The popular Pizza Bianca is topped with truffle oil and sauteed portobello mushrooms. Or indulge in a Double Nduja, with two types of chorizo perfectly balanced with tomato and fior di latte.
Share a Slice – whose other home is at Pop Brixton – is a pizzeria with a difference, as for every pizza sold, one more is donated to help feed the homeless.
Rooftop Film Club co-founder and CEO Gerry Cottle said, "At Rooftop, we have always been about bringing people together for good times, and we want to continue to do that albeit safely, during this age of social distancing. Bussey Building is also the home of the Rooftop Film Club, and while we can't bring that back just yet, we can use this rooftop space to reopen and extend the beloved Bussey Rooftop Bar. It's important to us that our staff get to return to work and that Londoners get the chance to enjoy themselves against the backdrop of our amazing view once again.
To make sure everyone can enjoy Bussey Rooftop Bar without disappointment, people will be able to book in advance**
Health & Safety Guidelines
Enjoy the rooftop vibes with great company, whatever the weather, with both covered and uncovered areas available to book. Dogs are permitted as long as they're kept on a lead.
There's no better place to be in London for drinks, food, music and views.
All guests and staff's health and safety are highly regarded. Social distanced seating will be implemented, and staff will be provided with visors and gloves. In addition, multiple sanitation stations will be available for all guests and staff. The Rooftop will continue to adapt to government guidelines.