Underbelly Bristo Square, Edinburgh
2nd – 25th August (not 13th) @10.15pm
DREAMGUN: FILM READS? This is essentially the world's favourite movies condensed to an hour in length, and full of jokes. Impressively, there's a different film every night – for 23 nights. So each show is completely different, and there are not many performers who can lay a claim to such an amazing feat – night after night
"You have to adore movies to be able to savage them quite as hilariously as Dreamgun… consistently sharp, rapid-fire funny writing, crackling performances" –
THE IRISH TIMES *****
"Hilarious live read-throughs of brilliantly rewritten film classics" – DARA Ó BRIAIN
Can you imagine your favourite movies condensed to an hour in length and full of jokes? That is what Irish comedy weirdos Dreamgun do, as they both amuse and exasperate cinephiles in equal measure – with their skewed, joke-stuffed and wholly unrehearsed takes on established cinematic favourites. The crew bring Film Reads back to the Edinburgh Fringe, performing a different classic movie – reimagined with nonsense – every night…
"Wry, arch asides and hilarious caricaturing… elevate the show to premium parody" –
FEST ****
Dreamgun is a comedy conglomerate founded in 2014 by Stephen Colfer, Gavin Drea, Heber Hanly and James McDonnell. Their series of short films, including Millennials, Gym Gravy and Back in Town, have been viewed by people on their phones at house parties over 289,808 times. Two more views and YouTube will give them a free hat.
The team made their Edinburgh Fringe debut in 2015, with their sketch comedy show Chaos Theory. Their follow-up show, Mimes in Time, had a sell-out run at the Dublin Fringe Festival and was nominated for the Bewley's Little Gem Award, which it did not win. Got a free hat though.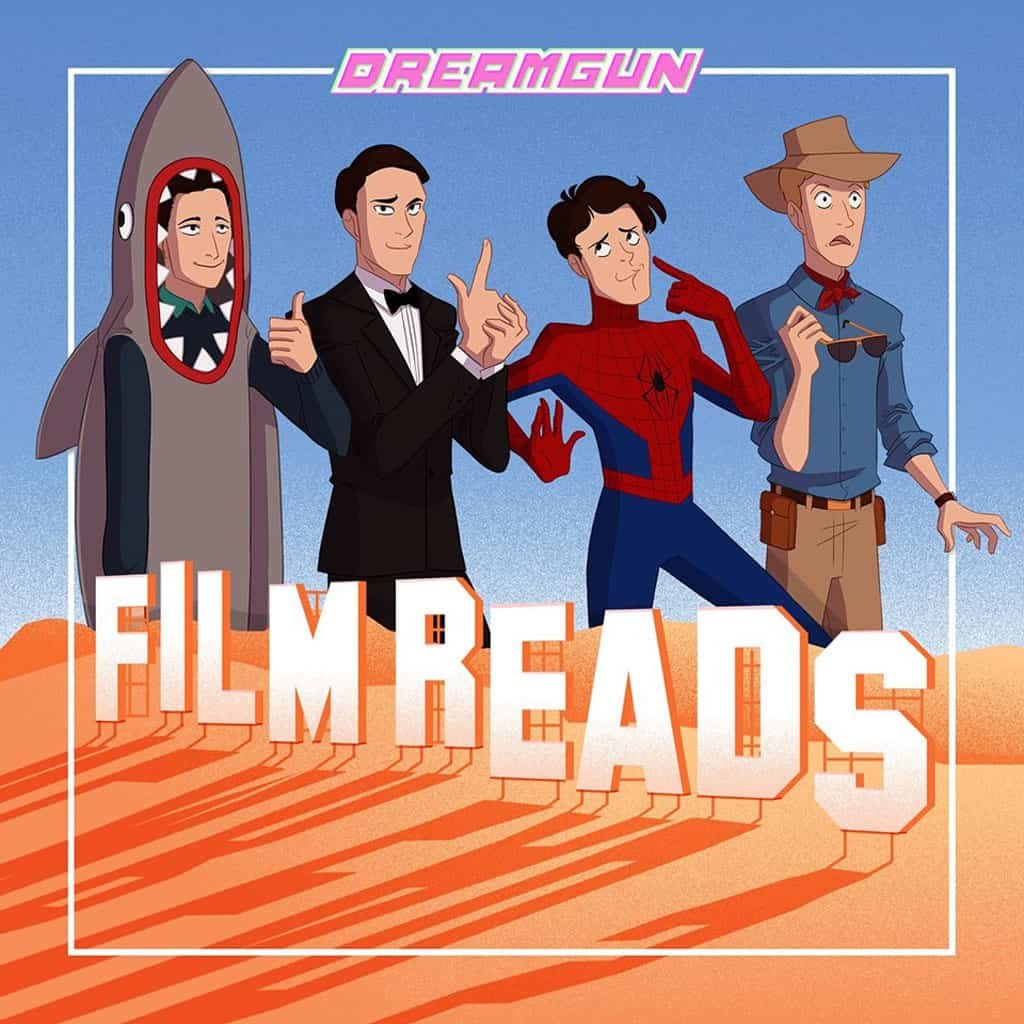 Dreamgun: Film Reads
They now spend their days writing and performing Film Reads, a show where they take a beloved film script and stuff it full of jokes and nonsense. Each script is then performed live by actors and comedians who haven't had a chance to rehearse beforehand. Since its first airing at Dublin's Belo Bar, Film Reads went on to sell out at the Dublin Fringe 2017, and then again in 2018, before the show was brought to an adoring audience at last year's Edinburgh Fringe and then subsequently the Adelaide Fringe – before selling out Vicar Street, Dublin and touring Ireland.
2019 will see Dreamgun bring their show to the Underbelly Festival Southbank, before returning to the Edinburgh Fringe for a fresh set of films. The troupe has performed at numerous other festivals, including Kilkenny Cat Laughs, Body & Soul in Westmeath, and the Vodafone Comedy Festival at the Iveagh Gardens, Dublin.
BEST ENSEMBLE, DUBLIN FRINGE 2018