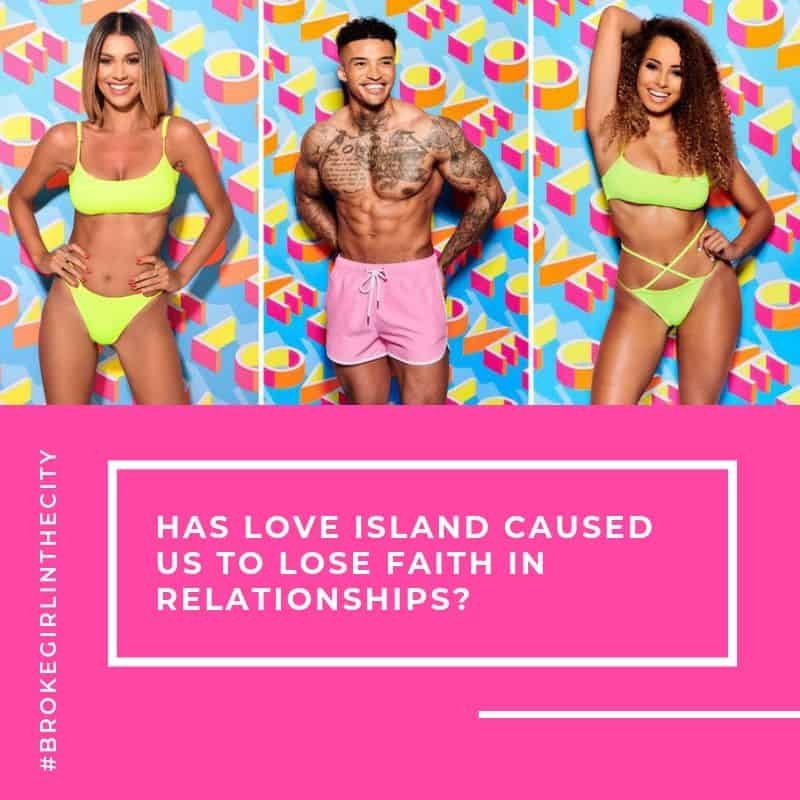 Has Love Island caused us to lose faith in relationships?
Dani Dyer and Jack Fincham, otherwise known as 'Jani', won last year's Love Island. A beautiful looking, cutesy couple – Jani appeared genuinely in love with each other. The romance seemed to last outside the villa for some time, with the couple moving in together and they were seen at various events all over the capital. Jani are no longer together.
Love Island 2019 – Relationships
Love Island 2019 has witnessed relationship highs and lows, which we would expect from the show. We have also watched gaslighting, cheating and disrespect towards the girls in the house. Yet despite everything, the girls seem to have come out all ok.
How we started to lose faith in relationships watching the show
Curtis, Danny, Michael, Jordan all appeared smitten with the ladies they chose on Live Island, then one by one their heads were turned and they swiftly moved on to someone else…breaking hearts as they did so (ours too).
Let's first talk about Michael
Watching Amber in tears because of the way Michael treated her was painful TV watching. The outgoing Geordie, who has a strong exterior but a heart of gold, chose to stay loyal to Michael during her time in Casa Amor. Michael on the other hand coupled with Joanna, citing that they had irreconcilable differences. Putting the blame at her door, obvs.
As Ovie told her, Amber handled the situation like a boss.
Chaldish behaviour
However, Michael didn't stop there. He callously branded her childish and spent the next few days making her feel as if the breakdown of their relationship was all her fault. In true narcissistic fashion, Amber went through the love-bombing phase, the devaluation, behind her back in Casa Amor, before the painful discard. The whole time, gaslighting and projecting his guilt, despite being the guilty party.
Gaslighting and projection
Michael continued to make Amber feel like she was in the wrong, whilst he acted loved up with Joanna. When Joanna was booted out of the villa, did Michael leave by her side? Of course, he didn't. He wanted to enjoy the last bit of notoriety and attention from within the house. Not everyone was too happy about the way Joanna handled the situation either, as she got rather handsy in the heat of the moment.
Hoovering stage
Then, of course, came the hoovering phase once Joanna had left the villa and Amber was starting to receive some attention from the incredibly hot and gentlemanly newbie Greg. Michael was back on the scene telling her how much he did actually like her.
Who would Amber choose?
The UK Love Island TV audience was waiting to see if Amber would be enticed back to Michael. She obviously had feelings for him still. Many girls have faltered and gone back. Better the devil you know and all that. Yet, Amber chose Greg! Twitter was awash with memes congratulating her and our faith was once restored in relationships, as we saw a once snug Michael lose Amber to a more worthier man in this case.
Then there's Curtis
Curtis, Curtis, Curtis. How could you leave the lovely Amy? Former dad and mum of the house, we thought these two would be inseparable until the end. Just looks at them in happier times below.
Curtis broke Amy's heart
Curtis when in Casa Amor had his head turned by the lovely Arabella. Amy was pining for him back home, whilst we watched him attempt to get it on with someone else. We did not expect THAT.
Curtis broke her heart. What did Amy do? When realising they would never get back together. Amy made the most unselfish, graceful leaving speech, packed her bags and vacated the villa with her head held high and dignity intact. What did Curtis do? Cry a few tears before moving swiftly on to…Moura.
Amy showed us what true love is
I must admit, my respect for Amy increased ten-fold as we watched her put her mental health and wellbeing, as well as Curtis, above anything. Now that is true love. If you can't keep them…let them go.
Now let's discuss Jordan
After Curtis broke Amy's heart, he then got it on with naughty Moura. Michael rather than being respectful, did his utmost to upset Amber. I didn't think there could be any more upsets with anyone else in the house. Unless of course, a new man came along to stir things up. How wrong was I? Jordan the cheeky chappy from Manchester had stayed loyal to Anna, despite her recoupling with Ovie in Casa Amor. Jordan played a good game and won her back – which was from Ovie was no mean feat. As Jordan became more committed in this relationship with Anna, even asking her to become his girlfriend, he immediately got cold feet and started flirting with India when she joined the house. Understandably Anna was not the only person upset by this decision.
Anna's confrontation
It was a devastating bombshell when Jordan made a play for India. Wrong on so many levels, as he was now in a relationship with Anna and she had coupled up with Ovie.
We love Moura. Despite her initial play for Tommy. She is a girl who gets girl code and gave her the heads up as soon as she found out her friend was being disrespected. What happened next? A heated confrontation where she told him in no uncertain terms what a dick he was being. Jordan must have taken some tips from gaslighting Michael, as he tried to plead innocent not liking being confronted so publicly, but Anna was having none of it. What a douchebag.
Anna, on the other hand, whilst having every right to be upset. Stood her ground, cried on her female friends but chose to love and not compromise herself. NEXT!
We love Chris
What a legend. The Leicester lad won many hearts during this time in the villa showing that even lads have big hearts.
The relationships that restored our faith in relationships
Whilst we are dismayed at the way in which some of the boys acted in the house. I think it's important not to tarnish all men with the same brush. Some of the men have been so gentlemanly and have also stayed loyal to their women in the villa.
The couples that are now in the house are those who we all believe are genuinely loved up (despite what some of you may say). Let's run through the four remaining couples who have restored our faith in relationships.
Tommy & Molly-Mae
Tommy has been a true gentleman throughout the series and adores Molly-Mae. Did you ever think you would see a boxer hold elly-belly to welcome back his girlfriend to the villa? Ever so romantic despite their protestations to say they are not so. Tommy and Molly-Mae are loved up and have been respectful of one another throughout this show. Despite a little wobble at the beginning, when Moura entered the villa and established herself as the new competition. If anything, this made Molly realise that Tommy was the one for her and now they seem inseparable, talking about living together when they leave Love Island. Molly-Mae is getting a bad rap from Twittersphere, which is unjust given the fact the show is a competition to win £50k.
Moura & Curtis
Whilst I don't think anyone has forgiven Curtis for hurting Amy. The girl with no filter has fallen for the charms of Curtis. I am not 100% sure if the relationship is built on love or lust, but the couple has managed to overcome their differences and seem quite smitten with each other. Moura might be a fun-loving sex pest, but Curtis seems able to hold his own. Whether their battle of wills will end this relationship, who knows, but it does show that there is love after a relationship break-up. As for Amy. We believe she will get her happily-ever-after too.
Ovie & India
We didn't think Ovie was ever going to find love in the villa and neither did he. Yet the late addition of India meant that the big friendly giant found his happily ever after in the villa before the end of the series and is a contender for the final place in the villa. Many people hoped that Ovie and Amber would get it on. What this did prove was that Ovie is a true gentleman as he stood up for his friend, even going up against the other men in the house when she was being mistreated by Michael. Keeping each other in the villa, meant that they finally got to find true love. If not, Ovie will never need to find a date again, after winning hearts during his stay in the villa.
Anton & Belle
Like an excitable puppy, the handsome Scotsman Anton seemed to be in an ever-present love triangle, yet not finding love himself. What we loved about Anton is that the cheeky chappy didn't give up. Belle then entered the villa. Strikingly beautiful, fun-loving and easy-going unless crossed (don't be giving out your number again Anton – like ever) – they make a really sweet couple. Belle is supportive and loyal. Anton the same. Both possess qualities that the other loves and needs. Despite Molly-Mae's worries, their argument only made them stronger as they got the opportunity to communicate with each other. Despite the distance physically, we think this couple has the chance to last the distance relationship-wise.
Amber & Greg
After the way in which Michael treated Amber in the villa. I wasn't sure if she would be packing her bags and following in the footsteps of Amy. We have grown to love the strong-on-the-outside-soft-on-the-inside northern girl. It wasn't just me who was angry at the way she was being treated. Michael made her doubt herself, blaming her for the demise of the relationship and as a result, she began to lose her self-esteem. Thanks to Ovie and the girls in the house, Amber picked herself up…. and then in came the good-looking limerick lad Greg. As one door closes another opens.
Knowing your worth
Amber could have chosen to go back to Michael. Yet she chose to put her happiness first and as a result, she has not stopped smiling since. That's knowing your worth. Once Michael left, it gave Greg and Amber the opportunity to really be themselves with each other.
Verdict:
In relationships, every person in here had their head turn at some point. That is real life. Tommy not believing Molly-Mae to be that interested in him, was an easy target for Moura. Curtis had his head turned again and again, first by Arabella, then by Moura. Jordan really liked Anna yet when India turned up, he started flirting with her instead.
What's important about being in a relationship is how you choose to act. Sure people will come into your life but if you want a relationship to succeed. You need to put that person first. In the words of Tommy, there is no-one else.
According to last year's winner Dani Dyer, speaking to Capital Breakfast, she believes that none of these couples in the villa will survive on the outside. Believing Ovie to the real winner of the show.
What do you think? Let us know in the comments section below.