National Breast Cancer Awareness Month is sometimes dare I say overlooked. Pink ribbons symbolise this cause but how much do we know about this cause and how to look after our breasts.
1 in 8 women gets diagnosed with breast cancer. That is an exceptionally high statistic to ignore. Make sure checking your breasts becomes a regular thing.
Around 5,600 women aged under 45 are diagnosed with breast cancer every year. Some cancer treatments can have a devastating effect on a woman's fertility, in some cases stopping them from having children in the future.
Signs & symptoms of breast cancer:
Information by breastcancercare.org.uk
a change in size or shape of the breast
a lump or thickening that feels different from the rest of the breast tissue
redness or a rash on the skin and/or around the nipple
a change in skin texture such as puckering or dimpling (like orange peel)
discharge (liquid) that comes from the nipple without squeezing
your nipple becoming inverted (pulled in) or changing its position or shape
swelling in your armpit or around your collarbone
constant pain in your breast or your armpit
Anastasia's selfie
Currently, on Strictly Come Dancing paired with Brendan Cole. Anastasia had a double mastectomy after two battles with cancer, in 2003 and then ten years later in 2013.
Anastasia posted this selfie on Instagram to show off her fabulous body after having had her boobs constructed.
Don't think you are too young to feel your boobs. Educate yourself now.
"One important thing to know is you're still the same person during it. I'm more eager than ever to do what I did. I want to do everything" Kylie Minogue
"Breast Cancer has got to be a priority to ensure that more women can access gene testing and lifesaving preventive treatment, whatever their means and background, wherever they live" –
Angelina Jolie
Tickled pink shop range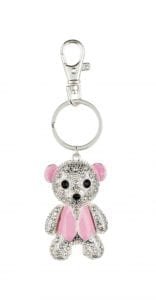 One way you can show your support is by buying one of the great pink items from their shop, and they are not expensive so don't worry.
I have hand-picked some of my favourite items from the range for you. ASDA have a fantastic Tickled Pink range including a heart and teddy key-ring with 50p going to charity.
Tickled Pink Diet Coke 30 Pack
30 cans of pink diet coke cost £7
40p from every pack will be donated to Breast Cancer Care and Breast Cancer Now
Available from Asda across the UK
Dorothy Perkins Bag for Life
Costs £3.00
£1.48 from every Dorothy Perkins shopping bag will be donated to Breast Cancer Care.
Available from Dorothy Perkins stores across the UK
QVC Alison Keenan 'I Hope' tear pendant
Costs £24
At least 60% of the sale price from this product will go to Breast Cancer Care, with the total donation this year expected to be £260,000
The Pink Ribbon
Where did the pink ribbon come from which is not the emblem for breast cancer?
First on the scene was the Susan G. Komen Breast Cancer Foundation. Komen had been handing out bright pink visors to breast cancer survivors running in its Race for the Cure since late 1990. In fall 1991, mere months after Irons' electrifying appearance, the foundation gave out pink ribbons to every participant in its New York City race. This first use of the ribbon, though, was for Komen just a detail in the larger and more important story of the race. To really break out, the pink ribbon would need a situation in which the ribbon was the event.