Broke Girl in the City launches
Broke Girl in the City is for girls who live and work in the city. Call it what you want – champagne lifestyle, beer money – we all want to have a fabulous lifestyle even on a budget.
What to expect…
Each month Broke Girl in the City will share top tips on a range of topics: budgeting, making money, things to do, lifestyle and wellness.
What's more, I want this to be a fun blog! We all are living and working in the city to pursue careers, dreams and to experience city life. It's tough living in the city. So Broke Girl in the City will offer ways in which to not just survive but thrive in the city.
Let us know what you would like us to review or talk about. The more feedback we get, the better experience we can make this for you.
London life
Broke Girl in the City is based in London. So top tips will focus on how to have an amazing time in this city. However, despite looking at ways to have an amazing time on a budget. You will be able to pick out money tips which can benefit anyone.
It's never too late to be the person you always wanted to be
Money, Money, Money
Money is something you can't live without whilst living in the city. However, the benefits of living here is that there are so many FREE things to do. You can also go out and have an amazing time if you look for the right Happy Hours, discounts for restaurants and shops. I love charity shops for finding unique clothes items. Whilst learning to save money, it's important to learn how to manage your money. Read the Money Monday series for top tips for your personal finance.
Broke Girl in the City will review budget fun things to do, events and products Living paycheck to paycheck is hard. This website is all about having fun too!
Do something you love
Life really is too short to be doing something that makes you feel miserable. It's too easy to get stuck in a toxic relationship, job, friendship. Life is too short to be miserable. London has so much to offer. Do something that you love and makes you happy.
If you're not having fun, you're doing something wrong

Groucho Marx
Friends and Family
I am one of the most independent and stubborn people I know. I hate asking for help, especially when it comes to asking for money or support.
It is important to keep your friends close and build a support network. It's too easy to push people away when you are stressed, anxious or depressed. You might even feel embarrassed that your situation has got completely out of control. Friends are only one WhatsApp, Instagram, Snapchat, Facebook message or phone call away. Make sure you don't forget them or let them forget about you. That goes for family too.
Sometimes friendship is the only therapy we need.
Turn problems into opportunities: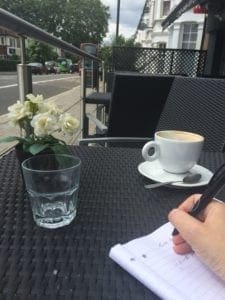 I had the idea of writing Broke Girl in the City for over 10 years before deciding to set up a blog instead. This is a photo of me in Parsons Green where I was living at the time. I can remember buying myself a latte and putting the first ideas for features down on paper. Turn your problems into opportunities.