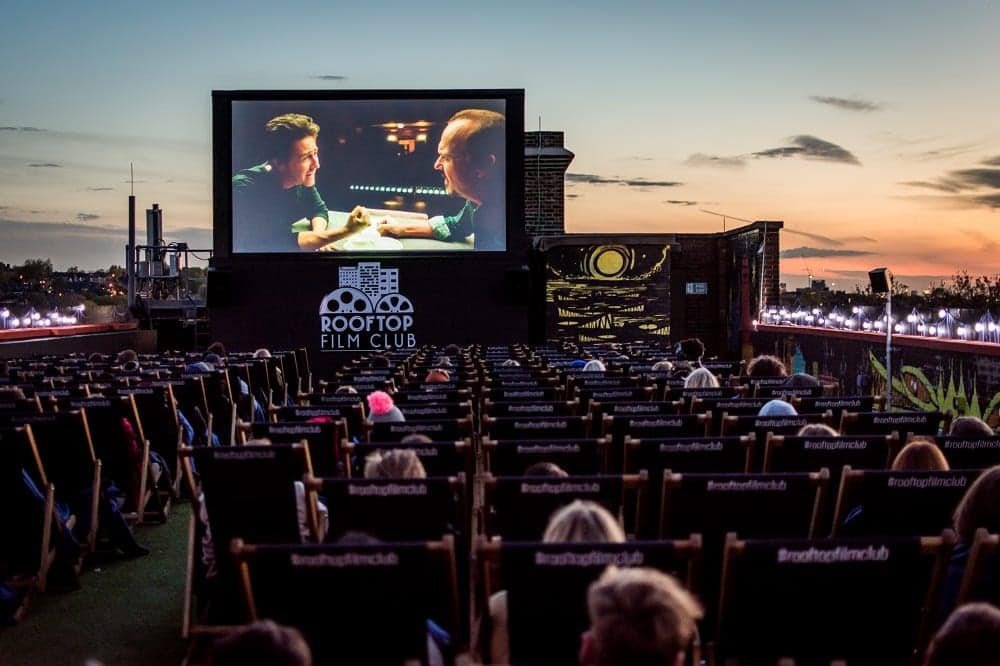 Al fresco fun goes up a level as the Rooftop Film Club release their July / August film schedule & new exciting partnerships!.
NME and BFI present CineJam in association with Zig-Zag: a mash-up of cinema and live music sets curated by Bastille
15 nights of Focus Features movies and Q&A with Oscar winner Dustin Lance Black to celebrate 15 years of award-winning Focus films
GREY GOOSE pop up bar offering sumptuous summer cocktails, masterclasses, and tastings
Travel-inspired cinema at altitude courtesy of Hollywood's airline, American Airlines
Rooftop Film Club is serving up another round of kick-ass viewing entertainment across the London skyline as summer gets into full oh-god-my-legs-are-so-pasty-throw-me-the-fake-tan swing.
The roofs of Peckham's Bussey Building, Roof East Stratford, The Queen of Hoxton and Kensington Roof Gardens are ready to launch a fresh set of films, and more, for your all-round sensory pleasure…
The new line-up of films for July and August includes Indie film lovers' faves Little Miss Sunshine and 20th Century Women. If big, bad Hollywood is more your style, then smash-hits like Rogue One and Beauty and the Beast are being screened up high on our super-snazzy, state of the art DCP projector (that's like the highest digital quality projection you can get – FACT).
For the ultimate girls night out, spice up your life with Posh, Sporty, Baby, Scary and Ginger in Spice World – celebrating its 20th anniversary this year (zig-a-zig-ah).
Rooftop Film Club takes summer to new heights
From Back To The Future to a La La Land sing-along, and everything in between, Rooftop Film Club promises a summer hotter than a popcorn machine kettle (ouchy).
And it doesn't stop with movies. For the first time ever – Rooftop Cinema has partnered with iconic music brand NME, in conjunction with BFI and Zig-Zag – to present CineJam. A glorious collision of music and film curated by movie-obsessed Bastille frontman Dan Smith.
The ten-night line-up will bring to the roof of Peckham's Bussey Building fast-rising musical talent who will perform stripped back open-air gigs before fans feast their eyes on bona fide classics. Kicking off on 5th July with a live set from London-based sisters JAGARA, CineJammers can enjoy '80's inspired synth-pop tunes before the sun sets and cult classic O Brother, Where Art Though? takes to the screen.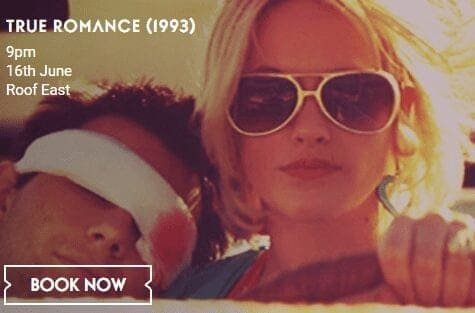 15 of their finest award-winning films will be screened over 15 nights at three venues across London in July to celebrate Focus' 15 years of quality filmmaking.
Adding to the filmazing mega mix is Focus Features – the storied film studio boasting some of the world's best pictures including gems like The Theory of Everything (tissues suggested), Eternal Sunshine of the Spotless Mind, Lost in Translation, and Brokeback Mountain.
The series will include talent Q&As, free iTunes vouchers loaded with specially curated Focus15 movie soundtracks and limited-edition film posters for guests. Academy Award-winning screenwriter Dustin Lance Black will be answering questions on the groundbreaking film Milk on 1st July at the Bussey rooftop, and more talent and dates will be scheduled – watch this space.
With a programme full of fresh beats and blockbuster gems you'll need some cool libations to wash down the experience. Rooftop Film Club's bar partner and conveniently the world's best tasting vodka – Grey Goose, will be serving up the 'must have' drink of the summer 'Le Grand Fizz' (you heard it here first) to roof toppers throughout the season. Cocktail fans can also enjoy a pop-up bar offering masterclasses, tastings, and customization of your Grey Goose tipple mixed by expert mixologists at the Bussey building on selected nights. Cinema goers at Roof East stand a chance to win luxury hampers to enjoy with their film. Queen of Hoxton guests can expect vodka infused sweet treats delivered to their seat. Film fans and vodka lovers alike should keep their eyes peeled for exclusive Grey Goose screenings later this summer.
And if that wasn't enough, American Airlines will spark your wanderlust with transatlantic films, events and in-flight goodies (psst, don't tell anyone but you could also win some flights!). Hello, summer!
Tickets for all screenings across the rooftops are live here.
What's on?
Cinejam Full Listing:
Wednesday 5th July: Jagara + O Brother Where Art Thou
Wednesday 12th July: Sundara Karma + The Big Lebowski
Sunday 23rd July: The Indien + Whiplash
Wednesday 26th July: Willow + High Fidelity
Sunday 30th July: Dagny + Trainspotting
Wednesday 2nd August: Little Cub + This is Spinal Tap
Wednesday 9th August: Georgie + Drive
Wednesday 16th August: Artificial Pleasure + Pulp Fiction
Sunday 27th August: Lao Ra + Goodfellas
Wednesday 30th August: Tom Grennan + True Romance
Bussey Building, Peckham
Saturday 1st July: Milk – plus Q&A with Dustin Lance Black
Thursday 6th July: Pride & Prejudice
Saturday 8th July: Loving
Tuesday 11th July: The Danish Girl
Saturday 22nd July: Nocturnal Animals
Tuesday 25th July: Brokeback Mountain
Friday 28th July: Raw
Friday 7th July: Shaun of the Dead
Wednesday 12th July: Lost In Translation
Saturday 22nd July: Eternal Sunshine of the Spotless Mind
Wednesday 26th July: Eastern Promises
Friday 28th July: Coraline
Queen Of Hoxton:
Wednesday 5th July: The Theory of Everything
More dates to be added
Check out the official website for full film listings and tickets.


Rooftop Film Club
The ultimate open-air film experience, Rooftop Film Club started as a single rooftop in London's Shoreditch in 2011. It has now expanded globally with four venues in the UK, LA and NYC; with more to come in 2017. Sold out crowds enjoy sunset film screenings under the stars in comfy deck chairs and cosy blankets, all coupled with London street food and drinks served by an award-winning bar team.