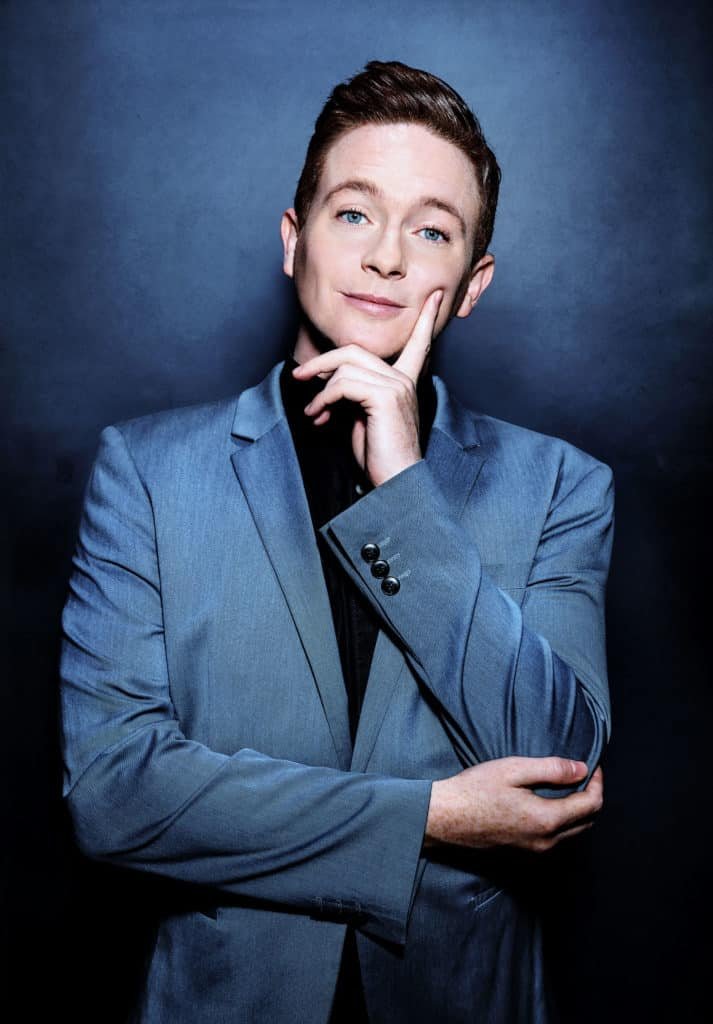 Stephen Bailey Tour Update 17th March
Due to the Coronavirus, Stephen has taken the decision to postpone his tour dates under the guidance provided by the government. All tickets will be honoured for forthcoming dates. A word from Stephen himself…
Stephen's Spring 2020 Tour
"An outrageous, hilarious hour of comedy. Stephen Bailey is a superstar in the making". – British Comedy Guide
Comedian and star of Channel'5's Celebs On The Farm Stephen Bailey is heading back out on the road in spring 2020 with a hilarious all-new show – Can't Be Bothered. Stephen is ready and raring to go with 20 brand new dates announced around the UK in February and March next year.
"A natural talent for making audiences laugh"' – Metro
★★★★★ – Voice Magazine, Fringe Guru, One4Review
★★★★ – Sunday Express, The Herald, The Skinny, Scotsgay
Closing Tour Date promo code
Stephen has given me a one day only promo code for anyone who wants to attend his London Show on 17th April 2020. Simply use the code COACHBOYZ for a discount on his end of tour show in London! London Tour Date Promo Code valid Monday 2nd March 2020
Can't be Bothered
In a time where everyone is expected to have an opinion on everything, Stephen just can't be bothered. But by being complacent, does that make him complicit? This show is a very personal journey for him as for the first time, Stephen really shows his vulnerability on stage as he explores what it's like to be a woke comedian – but he's still funny!
"Stephen's show was hilarious from the first line, and for the whole performance I don't think a single joke died" – Voice Magazine
He's basically Holly Willoughby
Stephen Bailey has made a name for himself for being a little gossip – but this year he's grown up and decided to have a conversation with you (but a funny one – he's still Channel 5's darling) – about everything that is going on in the world.
Stephen's the best mate you want to chat to at the pub and thinks the world has gone mad. I am lucky enough to consider Stephen as one of my best friends. Inspiring, funny and the BFF that gives you the best life advice. When Stephen told me that he was going to be photographed by the talented John Oakley I couldn't wait to see the final pics!
Can't Be Bothered is a bit of storytelling, some inappropriate anecdotes and more sincerity than he's ever dared have! What more do you want? He's basically Holly Willoughby.
Trigger warning – he does NOT mention Brexit. The government don't know what to say so he certainly doesn't. Radio 4 listeners are still welcome.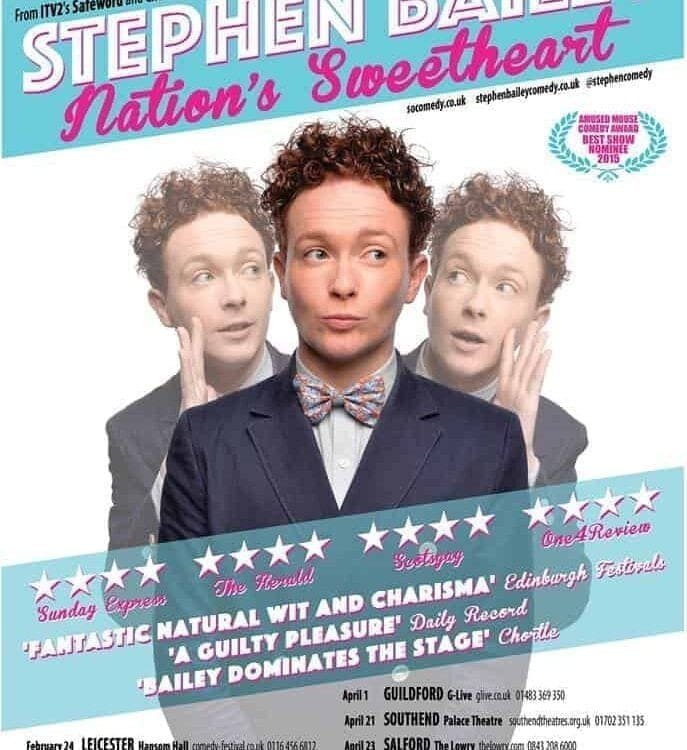 Stephen's third solo tour
Can't Be Bothered is Stephen's third solo tour, following the critically acclaimed Can't Think Straight in 2018, and 2019's Our Kid. Stephen has also performed at London's prestigious SohCano Theatre, as well as toured the country supporting fellow stand-up comedian Katherine Ryan on her sold-out UK tour.
Best known as host of Channel 5's Celebs on the Farm, Stephen has recently made appearances on TV shows such as ITV's Coronation Street, ITV2's The Stand Up Sketch Show, BBC Two's The Apprentice: You're Fired and Comedy Central's Live At The Comedy Store. Stephen will also be making his debut in the brand new series of BBC Two's Live At The Apollo, due to air later this year. It has been a very big year for Stephen, he's even bought a new microwave.
Adding to his extensive back catalogue of TV and radio work, Stephen has also made appearances on Channel 5's Celebrity Big Brother's Bit on the Side, Comedy Central's Roast Battle, ITV2's Safeword, and CelebAbility, and on ITV's Zoe Ball on Saturday/Sunday, as well as Sunday Takeover on Virgin Radio, the Breakfast show on GAYDIO and The Arts Show with Jonathan Ross on BBC Radio 2.
Follow Stephen:
I: @stephencomedy | FB: stephenbaileycomedy | T: @Stephencomedy
CAN'T BE BOTHERED – Tour Dates
Tickets for Can't Be Bothered go on sale from Thursday 31st October
Full listings and venue information below:
Thursday, 13 February 2020 Salford, The Lowry 0843 208 6000
Friday, 14 February 2020 Bristol, Hen and Chicken
Sunday, 16 February 2020 Milton Keynes, The Stables 01908 280 800
Thursday, 20 February 2020 Liverpool, Laughterhouse 0800 177 7575
Saturday, 22 February 2020 Leicester, Just The Tonic Hansom Hall
Sunday, 23 February 2020 Maidenhead, Norden Farm Studio 01628 788 997
Wednesday, 26 February 2020 Crawley, Hawth Studio 01293 553636
Thursday, 27 February 2020 Reading, Just The Tonic
Friday, 28 February 2020 Guildford, G Live Studio 01483 369 350
Saturday, 29 February 2020 Nottingham, Just the Tonic
Sunday, 1 March 2020 Lincoln, The Engine Shed 0871 220 0260
Friday, 6 March 2020 Leamington, Spa Pavilion 01926 334 418
Saturday, 7 March 2020 Peterborough, New Theatre 01733 852 992
Thursday, 12 March 2020 Bradford, St George's Hall (Studio) 01274 432000
Tuesday, 17 March 2020 Colchester, Arts Centre 01206 500 900
Wednesday, 18 March 2020 Bath, Rondo Theatre 0333 666 336
Thursday, 19 March 2020 Norwich, Playhouse 01603 598598
Thursday, 26 March 2020 Brighton, Komedia (Studio) 01273 647 100
Friday, 27 March 2020 Birmingham, Just The Tonic
Saturday, 28 March 2020 Bury, The Met 0161 761 2216
Extra dates added due to demand
1st Feb EDINBURGH Traverse Theatre
11th Mar BLACKBURN Darwen Library Theatre
17th Apr LONDON The Bloomsbury Theatre